How Many Ways Can An App Track You?
Hello.
What does really mean 'improve services' ???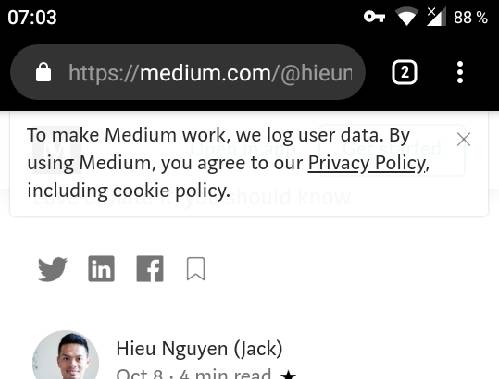 " Le Canard Enchaîné " N° 5212, 2020.09.30, p5, Plouf!, Jean-Luc Porquet (extract, about proposals from Citizen Convention for Climate):
'Brief reminder. To encourage us to buy more and more, advertisers spend 33 billion euros every year. This is three times more than the budget of the Ministry of Culture. That's 492 euros per French person. That is 1.3 euro per day. More than half a billion people don't even have that to live on. Advertising "as become the real motor of the whole system, as Jacques Ellul said in Le Bluff technologique (1988), the invisible dictatorship of society". Every day between 300 and 4000 advertisements are inflicted on each of us. Make them virtuous? A sweet dream.'
Thanks for sharing! It's nice to know
That's a good article, explaining basic methods. There are some more though, like fingerprinting, cross browser tracking, etc.
I'm not sure if the screen shot you posted was meant as an answer to your question (with triple question mark) or as a specific complaint against medium.com but I do hope it's the first. I don't know even what kind of site they are but they do seem to have a pretty sane privacy policy. Any site especially where there's some user interaction wouldn't be fundamentally different, including this forum.
Hello.
Yes, first choice, not especially against this site, cause everywhere on the web works the same or similar process.
So, it asks what really is this 'improvement', used in fact to obtain our consent to the collection of our private data (often by a non-working extortion): advertising. J. Ellul's warning is just 32 years old and his words are just fine… ten years before gg was born.
Hey guys, I wrote the article a few ago. I'm glad it was discussed here
@dotcoma Hey Massimo, thanks for sharing the article
@kalman Fringerprinting and cross browser tracking is not so common (< 5% website on the net). Though it is intresting and powerful too. I'll remember them for any future posts. Thanks!
This topic was automatically closed after 30 days. New replies are no longer allowed.