Just a quick report.
I am trying to buy a subscription for cloud storage to further support the project, but I can't.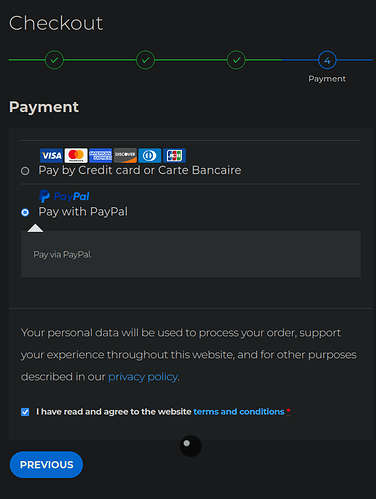 Issue:
The Payment part of the Checkout hangs with a spinning circle of doom as you can see at the bottom of the screenshot.
– I am using Firefox, on Manjaro btw
– I am trying to use PayPal
— (the PayPal account uses a different email address, in case that matters)
Minor niggles:
As you can see there is no translation of "Carte Bancaire" to "Bank Card"
On the customer details page, too much detail is asked for. The payment processors already have all the verified info a transaction needs, surely. I don't need any letters posted to me or phone calls made.
---
I'll try a debit card when I remember and also maybe use a Chrome-based browser. PayPal for me is the most direct and a good impulse purchase tool, so you should probably know about the issue(s).