To access your /e/ Contact, calendar, tasks and Gallery
Open a browser and browse to this url https://drive.ecloud.global/index.php/login
This would open the below screen.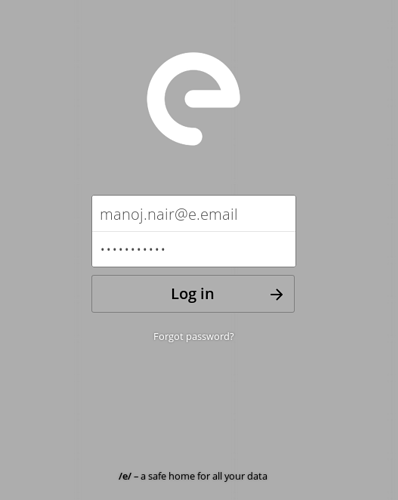 Type in your /e/ User ID and password.
Please note you need to type in your complete email ID with the userID@e.email at the end
The next screen will have a menu on top similar to this

The icons that on top are as under…
. Files…here you will find a set of folders in which some of your phone folders are backed up.
. Activity …Activities you performed on your phone - update delete of files / folders /tasks/ contact will all be recorded here for your reference
. Gallery …images saved on you phone will be backed up here this would include screenshots and photos you took with your phone camera. They are synced minutes after you take them.
. Contacts…Contacts you create or save on your phone.
. Notes…Any notes you want to preserve
. Announcements…Announcements from /e/
. Tasks…Tasks that you create in the Tasks app on the phone.
All the items you see here can be updated and deleted either here on the web or on your phone.