Disponible en français ici.
Note: My Windows is in French so you will have to adapt just a little. Shouldn't be too complicated thanks to the screenshots.
You may be stuck at the step below when you want to install /e/OS on your Fairphone using the Easy Installer for Windows.
You have started the Fairphone in fastboot mode, you see the green "START" but nothing happens. Follow this tutorial to solve the problem.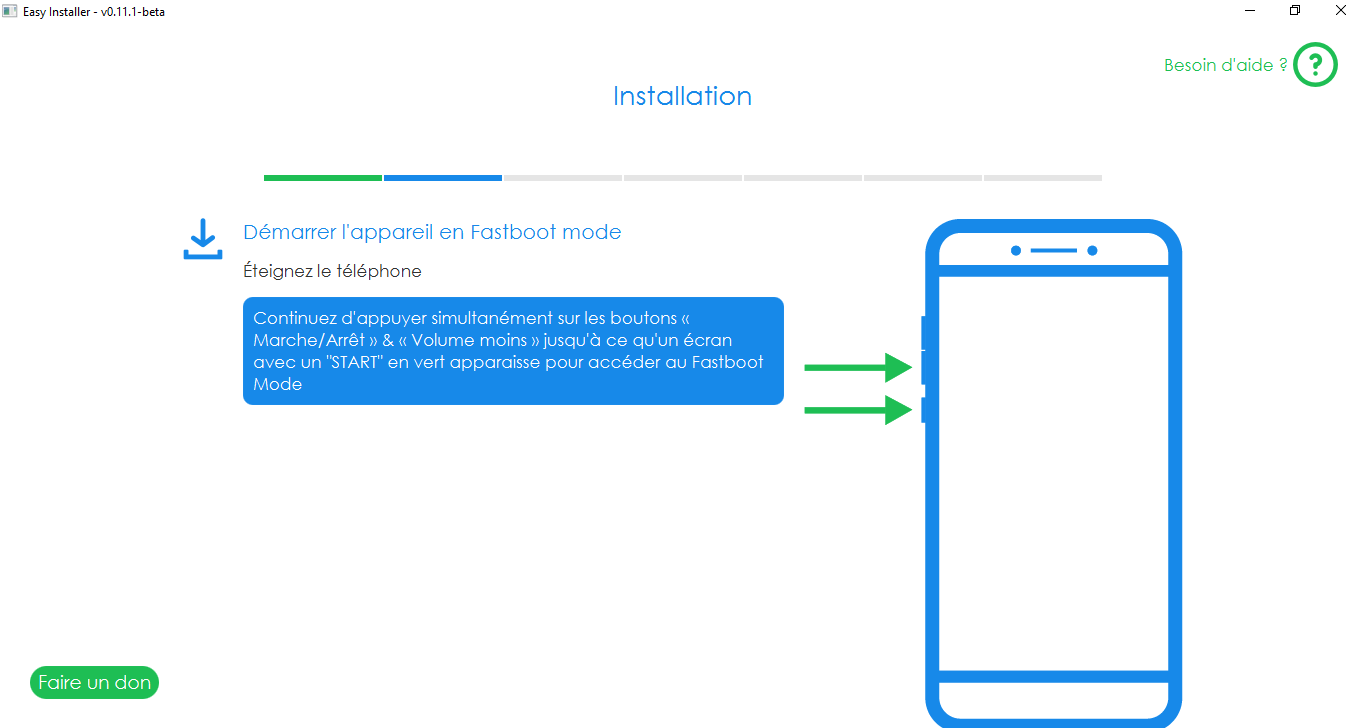 EDIT: there is an easier solution:
Go to Windows settings, then in the Windows Update tab.
Click on refresh to search for updates. It might install the needed drivers.
If it doesn't, you may see a "Optional updates" button (or simliar), click on it and click on the "drivers" part to display the list if installable drivers.
If you see "LeMobile - Other Hardware - Android Composite ADB Interface", install it.
If it still doesn't work, install another one from the list (such as "Google Inc. K??? Android Bootloader Interface" for instance) and see if it works.
If none of the drivers in the list works, you can try the following:
1) Download the necessary files
Let the Easy Installer open and the Fairphone plugged.

Download this ZIP file. It contains the necessary drivers.
(Here is the source for interested people.)

In the "Downloads" folder, right-click on the "Samsung-WinAll-Classic-25_escape-drp.zip" file which has just been downloaded. Click "Extract All" and then "Extract".
2) Go to the Device Manager
Right-click on the Start Menu (the Windows logo at the bottom left).
Click "Device Manager".


Grant administrator rights by clicking "Yes".

You are now in the device manager.
You should see a device named "Android". This is your Fairphone.

3) Install the missing driver
Right-click on "Android", then click on "Update Driver".


Choose "Browse my workstation to search for drivers".


Click on "Choose from a list of drivers available on my computer".


Scroll down and select "SAMSUNG Android Phone". Click on "Next".


Click on "Disk provided…".
(If in your case items are listed, skip the next 3 steps).


Click on "Browse…".


A window opens. Go to the folder where you downloaded the driver in the first step. By default, click on "This PC", then on "Downloads" and finally on "Samsung-WinAll-Classic-25_escape-drp".
Keep going until you see the file "ssudadb.inf". Select it and click "Open".


Click on "OK".


Drivers are now listed. Select "SAMSUNG Android Bootloader Interface" and click "Next".


A warning is displayed, click "Yes".


The driver installs. A confirmation message is displayed. Click "Close".


You now see that the Easy Installer has automatically moved to the next step, and that the display of the Fairphone has changed.