There is a German NGO raising awareness on privacy and security issues on mobile devices. On their website mobilsicher.de they are doing a good job providing a toolkit for digital self-defense, for helping users to increase their privacy – all edited for mainstream users. .
Last year they introduced the "AppChecker", a free webservice to check apps with regard to their privacy implications. For the moment it is an Android only service (no iOS apps).
AppChecker is available at https://appcheck.mobilsicher.de
The user can search for specific apps or for categories (such as mail, chat…).
For any app the AppChecker provides some basic, easy to read information – including the permissions the app is requesting.
For some apps that have been tested by the team, short descriptions and a final privacy rating is attributed (1 best, 5 worst).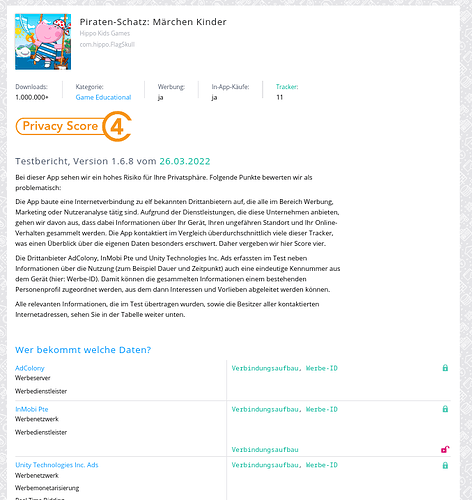 The presentation of available information is really comprehensive and (I assume) somehow understandable for average users. The permissions that apps are requesting are well presented
Apps that are tested, receive a well comprehensible listing what trackers ar including and where users information is distributed to, they receive a short description (some times extracts from tests they conducted sometimes just short descriptions of the app with an evaluation of the apps privacy. In the end those apps receive a rating – in very brief:
1 (no contact to third party services)
2 (there are 3rd party services included but they do not track),
3 (transmission of an advertisement ID but nothing else),
4 (i.e. app that do not encrypt the traffic),
5 (transmission of location combined with an ID, or transmission of sensitive data such as religion, health, political convictions).
0 as a grade is given to apps that do not access internet.
More in depth info on how the team rates (in German only) can be found here.
Downside of AppCheckers' current approach is that for a full test (wo)men power is required (so only relatively few apps are actually fully tested). Moreover, the ratings are nothing more than a snapshot for one specific version of the app, as with a next version of an app the rating could be already different - for actively developed and often updated apps this score has only a limited relevance. And in the end it is a pity that AppChecker is in German only.
What I like about AppChecker is the way information is presented to users. its app ratings appear comprehensive for average users .
I'd love if in the future Murena/e users can conduct researches on apps in App Lounge via an extended web back-end and they'd receive in a similar manner information on available apps.
AppChecker is far from being perfect, but contains a lot of good ideas, after all what I have seen so far it is backed by a nice team and what they produce is open source: https://git.app-check.org/explore
For German speakers, there's a nice 20-min video presentation of the project available here: https://youtu.be/9402l5zOj9I
Regain your privacy! Adopt /e/ the unGoogled mobile OS and online services