Wow !
you are so reactive and very fast to build congratulations !
The LineageOS Project supports the LineageOS Android Distribution LOS 16.0 for Samsung Galaxy S5 Plus (kccat6) since August 2020. accordingly local_manifests / roomservice.xml are available.
Unfortunately TWRP 3.2.3-0 from July 2018 is not quite as fresh as it used to be, but it works.
.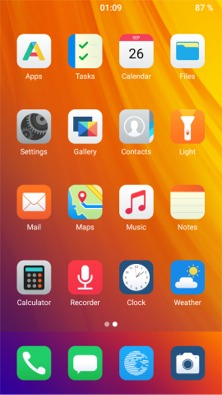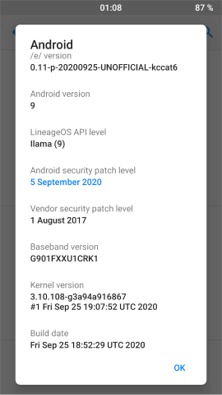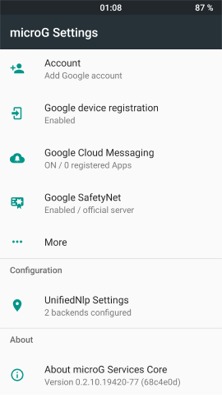 Thank you @itsclarence for investing knowledge and time to build an up-to-date /e/ OS ROM for this great device. The next update may already contain the microG Services Core version 0.2.12.203315 ;-))
Ripee build TWRP 3.4.0-0 for kccat6.
You might give it a try in the future.

@itsclarence, thanks for the hint. Well, ripee is no stranger to me. This TWRP build is not his first.
His TWRP 3.4.0-0 "something new to play", released yesterday evening at 20:41, is not (yet) officially on the TWRP.me website, so it's still an unofficial version. I will definitely try his "game version".
First I installed @ ripee's unofficial twrp-3.4.0-0-kccat6.img with the official TWRP 3.2.3-0. At first sight it works, but I had the impression that a reboot-to-recovery (verification) is a little bit delayed.
As a result twrp-3.4.0-0-kccat6.img.tar was flashed. In this case a Reboot-to-Recovery (verification) was executed a little bit faster as I know it from other TWRP versions.
Maybe my senses are wrong and I should get some fresh air and go for a walk.
New update eOS-Pie for the S5 Plus.
Including january security patch.
eOS-Pie for the S5 Plus possible? Or do you have to stop your ROMbuilding as well then?
Lineage OS ends support for Android 9. A total of 24 Android devices lose support for Lineage OS. A post on Github indicates that Lineage OS is ending official support for Android 9-based version 16.
If there are people who will be contributing to keep developing this device in future, I can update now and then. That's no problem. But my fear is this device will be forgotten. There is not much activity around this phone.
Regards Edwin
As the others glued devices ( s6, s7, s8, s9 ) that you cannot repair by yourself without specials tools, the s5 series will be shortly abandoned by their users.
I warmly recommend the Galaxy s4
Yeah Edwin,
I saw this answer coming. That said, the SM-G901F (Snapdragon 805) is noticeably faster than the SM-G900F (Snapdragon 801). The camera of the 'kccat6' also works with the Open camera Camera2 API app. Both are IP67 dust/water resistant despite the removable battery. Too bad.
The last (final) LineageOS 16.0 build is dated 11.02.2021. A final /e/ OS 'P'ie with Android Security Patch Level 5 March 2021 would be a fitting departure for the S5+ and a welcome gift from you to all of us kccat6'users.
That was indeed also my intension…
Probably the last update…Enjoy

Thank you very, very, very much, Sir

Is it okay to flashed the rom using 3.2 TWRP?
twrp 3.2.x-x is designed for devices shipped with Android 8 or less
G901F was shipped with Android 6, so it is ok.
Sir I'd forgot to download GApps is it okay not to download it?
What do i do if i forgot to download Gapps?
GApps dont works with /e/
GApps are not needed with /e/
GApps are not wanted with /e/
MicroG is include in case some apps need the device tell them GApps are present.