So is there a way to unroot the Os after installation ? Does it avoid updates?
The OS is not rooted with this.
Rooted Debugging gives you the possibility to temporarily promote yourself to the root user when you work with ADB.
I still hope that Rooted Debugging comes back for stable builds - at least there is issue #5418 (for FP4 only?) in status 'awaiting development' regarding this topic…
That is only for Q the case I think, on FP3 with 1.0-r-dev SafetyNet also passes

it does not no xz2c…
Hello,
I am very pleased to have received my OTA proposal to upgrade my Samsung S7 today (it's an e.foundation phone).
My current version is 0.19 … stable.
I received 3 proposals to upgrade (0.21, 0.23 and 1.0…).
Should i upgrade from 0.19 to 0.21 and after to 0.23 and then to 1.0 or is it possible to upgrade to 1.0 directly from 0.19 ?
Sorry if someone as already ask the same question, i didn't found the answer.
Thank's a lot for your help and advice !
Thank you and good evening
Normally with /e/ version updates, skipping a version, or three, is fine.
But is one of these three the OTA Upgrade ?
Surely only one of these is the OTA UPGRADE – the very special one?
You would not want to "skip" the OTA upgrade. Or do I misunderstand ?
If you knew for certain the v1.0 was the upgrade, you can go straight for that.
Nice one, it is finally here! I couldn't find the image for 1.0 under the S7's dev or stable builds. Or is there another place to look for? I need to install it manually, no OTA for me. That's why I am asking.
Here it is a picture of my phone yesterday evening to help understand what i meen.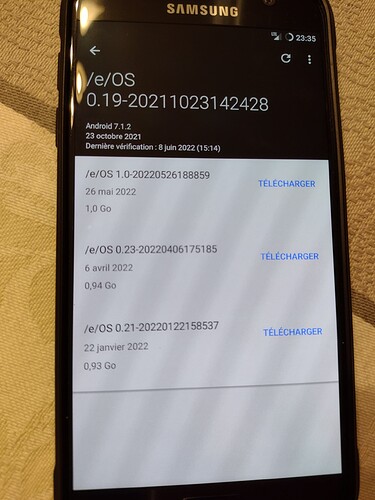 The 3 proposals of upgrade came together yesterday (I often check, and i received them together). So what is the good choise to upgrade my phone towards v1.0 (directly or by intermediate steps/versions) ?
The v1.0 is the OTA OS upgrade build for the s7. Always go for the latest build as it has all the previous builds updates
havent received the prompt yet, but i will patiently wait till its my turn

Hi Manoj, sorry to bother, but are there any news regarding the manual download of the image for the S7? Will it be found under stable or dev?
The OS OTA builds for the s7 /s7+ are being released for a couple of hours every day. It should start soon today. It will be released on both dev and stable channels.
The reason why we release OS OTA upgrades in short bursts daily is to check in case any user has reports any issues. While we have tested the build extensively, it is always better to be cautious.
It should be available now through the updater on the phones…pl check.
Upgrade is avaible

Still nothing 'til now; is this because of my location? (Reunion Island) [sorry for my bad english]. Thanks in advance
Thank you very much.
The update went well and the phone works well in v1.0 now


Thank you very much for your assistance and good luck with the continuation of Murena. It's a great and important adventure !
Thank you and have a nice evening.
The builds should be available for manual download later today …10 June
at present the locations show the older builds
Thank you!!! And sorry for my impatience

The s7 / s7+ device updater should be available for download now on the phone.
The manual downloads should be enabled later today