Hi, do you know if the Motorola Moto g50 XT2137-1 is planned to receive /e/ os support?
Yes, it is moto g⁵⁰ (XT2137-1) with codename reteu

I have also uodated the topic of this conversation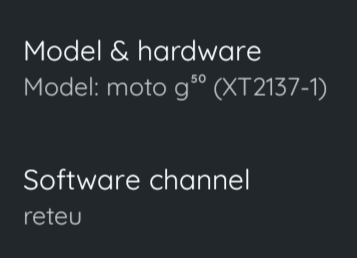 so where should I look for codename? could it be in the box somewhere?
You could try here [HOWTO] Find device codename


or https://www.getdroidtips.com/list-motorola-smartphones-codename/
according to this website codename is Ibiza
So from my first post we learn (13th November 2021) he found no TWRP, but reports a method to install GSI by fastbootd.
Probably too new to look for /e/ very soon but …
Is it important to have LineageOS for the device in the first place?

If yes, this means that waiting for the LOS os is the first step in this case

This is what I've found when I wanted to ask for LOS on Moto G50 Ibiza


https://fourkbomb.github.io/lineage_wiki/device_requests.html
But this sounds not too much promising at the moment

And it seems like twrp for this device does not exist yet