Hi,
Is this an unofficial version of / e / ?
If so, with what level of security patch?
(Because I have an old unlocked Moto X Style on hand with a 2017 patch … So I want to test and contribute!)
yes its unofficial but its same as official but without ota update, it has android securoty patch from September 2019 i think.
I made an update for this device, enjoy

:
e-0.9-n-20200711-UNOFFICIAL-clark.zip
TWRP : https://dl.twrp.me/clark/
Don't forget to backup and share your experience, thanks

I took this for a spin on a Moto X Pure with bootloader ver. 0xA052. I had to modify the updater-script to get it to install with this bootloader version.
Things went fine with the sideload. Upon rebooting, however, the phone hangs on the splash screen with the e and dot.
I have reloaded the zip file several times, but the phone still hangs at the same point each time.
Any suggestions on where to proceed from here?
I have the same bootloader version, so I'm going to give it a try.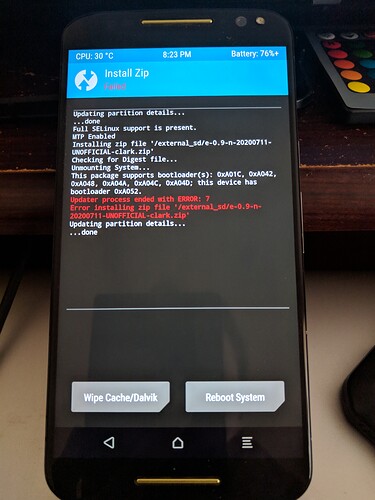 We'll need a new build for the Nougat Bootloader I guess.
Some ROMs only work on the Nougat Bootloader, some only with the Marshmallow Bootloader. A little bit of an explanation can be found on XDA (link below).
https://forum.xda-developers.com/t/custom-roms-working-on-nougat-modem-only-these.3733105/