Hi @itsclarence,
if you have finished your running /e/ OS projects, could this become your new / project:
Good luck with building …
Silently and quietly you build one /e/OS ROM after the other. My esteem is certain for you.
Thank you, @itsclarence

My OnePlus_5T (A5010) 'dumpling' had the firmware OxygenOS 10.0.0 as basis for LineageOS 17.1. /e/OS -0.13-q-20201115-UNOFFICIAL-dumpling by itclarence I could not install. "Updater process ended with Error: 7' This packages requires firmware version 10.0.1 or newer. Please upgrade firmware and retry' prompted me to run TWRP 3.4.0-0 Recovery.
So I flashed the official firmware OxygenOS 10.0.1. After that an unproblematic /e/ OS ROM installation including Android securtity patch level 5. November 2020 followed. The SIM card was recognized immediately, telephoning works just like WLAN via Wi-Fi 802.11 ac / 5 GHz.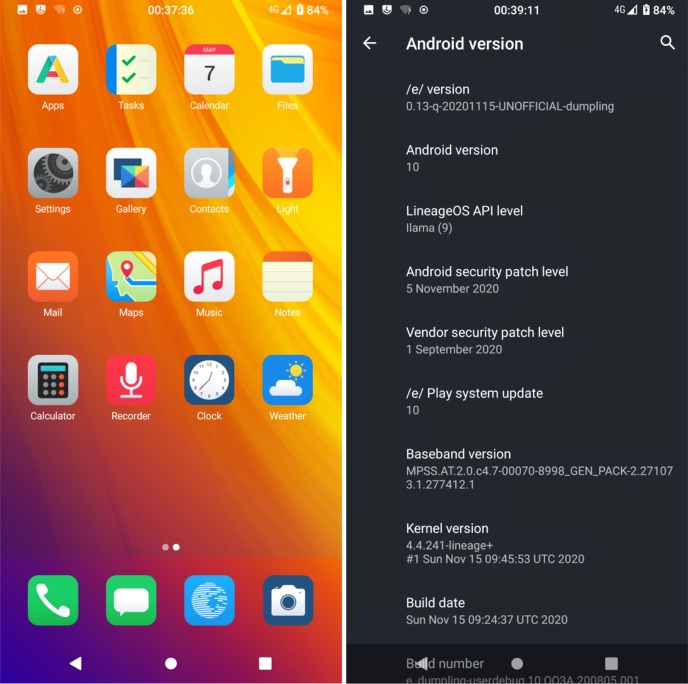 I was absolutely surprised by the brand new microG version GmsCore 0.2.13.203915.
Unlike the stable previous version 0.2.12.203315 (COVID apps compatible) the UK NHS Covid-19 app version 3.10 (100) 100 from 05.11.2020 does not work at all. In the microG settings the option "Exposure Notifications" cannot be found.
Wow, what for /e/ OS 'Q' ROM, @itsclarence - Thank you very much.
Thank you very much @itsclarence for this build !
It works very well !
Are you looking for some feedback on it ?
Do you plan to release something like monthly build ?
If yes, where could they be found ?

Thank you very much !

Yes please, so other users can benefit.
Thanks alot

Works really great​:+1: