It comes automatically with repo sync as @blaes has written.
The security patch in my builds are from june, 5th
Ok thanks for the feedback (and happy that the build is correctly working not only on my phone

)
I'm looking with my mentor @harvey186 why the security patch is not in my build…
FYI, I tried a new build last night and the result was the same : 5th of May 2020
Hope I will figure it out quickly

Update :
@harvey186 has investigate much more than me and, finally, it sounds to be a bug. He has created an issue on Gitlab
Hello,
Just to say thank you for this build. It works pretty well on my S7 !
[UNOFFICIAL BUILD] Unofficial Pie Build for Samsung Galaxy S7 (herolte)
"Who loves ya, Baby?" In 3 months 3 unofficial Pie Builds for Samsung Galaxy S7 (herolte). This is really really good and a remarkable progress!
Following the feedback from users, the most stable build is from the great build master harvey186.
@harvey186, I read that you are endlessly on /e/ in use and insanely busy - but when the new Android security patches are released in August 2020, you could update your excellent e-0.9-pie build "on the side". As a pro, you've probably saved the essential shortcuts and just have to press "rebuild" button

I only found the issue, that the pulse sensor doesnt work - but I think this is really a very little problem, because dont know, if anybody uses it

For me it is important to know, if this built will further be developed in the future. The Nougat /e/ built for S7 is good, but its out of time.
I need my phone daily and it is very important for me, that it works. So if the built will not be developed further, I will change to LOS with micro g.
The messages about developing for the S7 I found from the /e/ foundation, are not clear. Or does anyone have other information? Thanks very much for the work of the devs! Great.
It will get updates in future. There is a post about 'roadmap'. There you will find more information

Thanks. The information there is not really clear or me, but gives hope for the future. Maybe.
Hi, did you use the "v0.9-pie" tag ?
repo init -u https://gitlab.e.foundation/e/os/releases.git -b refs/tags/v0.9-pie
No problem with the "v0.9-nougat" tag on my side.
Some kind of good news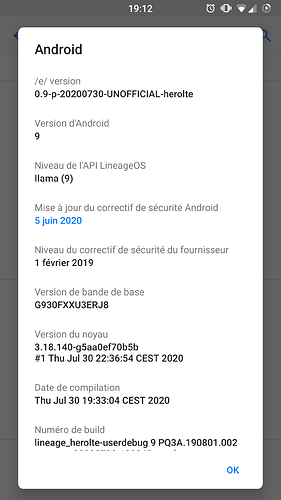 I don't know why it's on June… But it's better…
Here is the link : https://ecloud.global/s/spDr9GHZn9ncpg4
Goolag site shows July, 5th, but I have just build a LOS17 GSI and it has also June, 5th. Seems LOS is one month behind
So, it's perfect, the build is in time


For information, it's the branch 0.9.4 … Seems to be ok…
Hmm, I have four different ROMs for Galxy S7 (herolte) in test. All four are based on LineageOS 14.1 and LOS 17.1: All four builds have Security Patch Level 5 July 2020 on board.
OK, than is e.foundation one month behind :((
The link is death. Can you give a new one?
Sorry, I delete all previous link in order to always keep one version alive…