Hello,
I need to use and access my FairPhone 3+ phone under eelo e foundation android version 10 with anydesk remotely with unattended access (no need to validate the connection from the phone).
Anydesk works, I access it but the problem is that when I connect, I systematically have the following message (see image):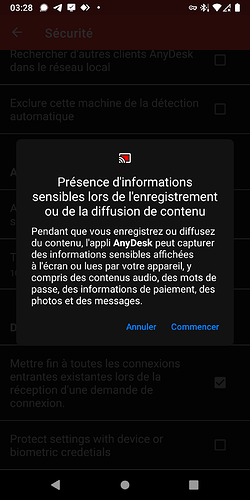 I would like to no longer have this message and no longer have to press "Start", because it is for professional use and it blocks me in my job.
PS: I tested with teamviewer too, the same, so the problem comes from the phone's operating system and not from the applications.
Waiting for your solution,
cdt
Regain your privacy! Adopt /e/ the unGoogled mobile OS and online services