ello
first of all. great platform!
I rly appreciate all the work and effort you bring up. I knew you r still in the development and prolly have more then enough open tasks and issues. Though I had a closer look I couldnt find any bug reporting form nor a link to a bug tracker. So now Im here.
at first - I tried to sign up here with my e.email account - but the e.email is not valid?! ok?? must be a bug. =>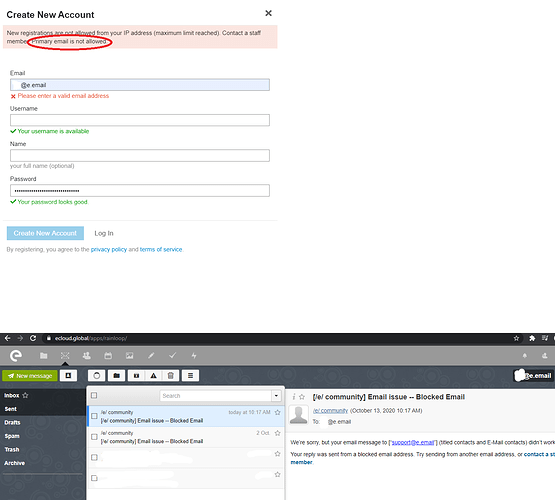 I registered with another Email to gain access. That's why I get the IP address limit error as well.
Next - I tried to write Emails to the "support@e.email" address but Im blacklisted as well.
Please unblock your own e.email addresses. That's a lil embarrassing. I already had an Email conversation with @arnauvp and @Shenol about me being blocked


I tried to answer again but now the issue has been closed.
Now Id like to talk about a missing and really important feature. I imported my contacts via .vcard but those are not appearing in the Email address book. Also while sharing documents.
Id rly like to see those connected contacts. It would facilitate working with the /e/ cloud even more!
So far the onlyoffice is working pretty nice! Thanks for adding again.
Kind regards