thank you very for your help and effort.
short question about the upgrade and the recovery part to download.
Should we download the recovery of the current installed variant (in my case R)
or the one for the future variant to upgrade (would be for me S then)
In resume for me who have the 1.8 R.
Should I download the recovery 1.8 R first, and apply the 1.8S?
or the recovery 1.8S and switch to build 1.8S?
or directly download the recovery 1.9S and build 1.9S?
Seems that i could directly install the build 1.9S… But with which recovery? 1.9S?
Hmmm … but there is this …
Caution: Before following these instructions please ensure that your smartphone is on the latest Android firmware available for your device. For example if available , before flashing /e/OS 'S' install Stock Android 12. [Snip, edit]
… complicated by …
Warning: Please note this upgrade build could not be tested as there were no device specific testers available. Some devices may need a revert to stock ROM prior to upgrade. To flash the stock ROM you would need to use a tool provided by your vendor.[Edit - split]
I have split this quote … it carries on
You may also need to download a recovery image built specifically for your device.
This is a generic warning, but in your case https://doc.e.foundation/devices/beyond2lte/install would simply have you use https://images.ecloud.global/dev/beyond2lte/ – and, yes, you would want the recovery to match your Android 12 = S build.
Sometimes the LineageOS Upgrage page offers another insight. https://wiki.lineageos.org/devices/beyond2lte/fw_update
You may want more specific advice about Samsung Stock ROM, in which case probably best to search for a more Samsung specific thread or start your own new topic / thread, I suggest.
you means maybe the recovery 1.9 ( recovery-e-1.9-s-20230311268558-dev-beyond2lte.img ) which passed to the build one 1.9s
No need to need to apply the 1.8.1 s with its recovery at first, the 1.9 s afterwards…
Thank you very much for your effort and your time to explain it.
I'm sorry i'm little bit scared to make a wrong manipulation, and need confirmation…
I don't want to spent too much time and money to catch up what I made wrong…
Thanks a lot for this!
Some I hate a lot is to be the only one to have a problem, and it happens to me too much.
Yes, "as if"…
Yes, that's SeedVault, I found the project on Github and read the FAQ, I got all the informations that I need.
I activated the backup, I don't really understand how to get the data in the backup and if I will be able to restore it, but I'll see (very good way to manage backups, lol).
I searched a lot and I found a way to do the backup using root adb. I could get a full backup of the data using this command on the computer on which the phone is pluged:
adb root > /dev/null && rsync -a --delete --rsh="adb" shell:/data/data/ /mnt/home/almtesh/Temporaire/Pledge/e/data/

Yes, I know I should do adb unroot when done, but I don't want scrcpy to be terminated at each backup.
On both
Sony Xperia Z5 Compact ("Szuzuran") R 1.9
and
Sony Xperia Z2 Tablet ("Castor") Q 1.9
The camera app is broken.
It is a complex subject and you have a valuable, modern device. I think it simply takes a bit of time for one's mind to absorb the importance and sequence of the necessary steps. Sorry, but I do not think I am in a position to improve on my previous answers.
I found another issue, with network location provider.
The one from Mozilla often gives me wrong location.
The solution would be to disable it, but if I do so, no other app can list nearby Wi-fi access points (of what I understood).
I have the same problem if I tell Mozilla NLP to do not use Wi-fi.
Can happen … I add Local NLP Backend … other backends are available !
I just reinstalled it and I have data about the problem.
When I ask it to show nearby emitters, I only get the LTE cell after a long scan, but when I enable Mozilla Location Service or Apple Wi-Fi, the nearby emitters show more quickly and I get the Wi-Fi emiters in the results.
I don't really understand how it's possible…
I set all the apps to have permanent access to exact location.
Hello,
Am I the only one with this important battery usage by microG?
Oneplus Nord, avicii, 1.9 S (dev)
Best regards
TmT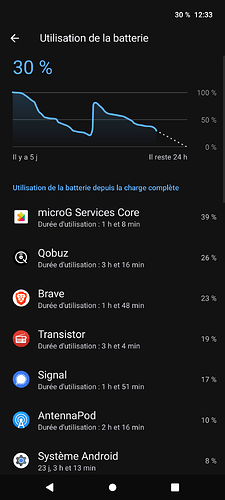 Fairphone
FP3+ Refurbished (from Murena shop)
/e/OS 1.8
Not rooted
I didn't get a notification for the update (nor for some apps in the app lounge). I would never have known there would be an update if I hadn't checked manually.
All is working as expected (as far as I can tell for now) but the new Android quick setting panel UI is just hideous. I thought at first some accessibility option for visually impaired was activated but no, it's just the new horrible design with those big ugly buttons. Damn what were they thinking ? Why turning something that works well to this nightmarish, non-intuitive and impractical crap ?


Hope there will be a solution to go back to the classic look (I've seen there are freemium apps that do that but NOPE).
Not by Android itself, really, since this is the new design system, called Material3. And I'd rather the eOS developer team spend their time on a stable operating system with reliable privacy functions than trying to revert these UI changes. But those are just my two cents.
Sure /e/os devs have more important tasks to work on. And yes, I doubt Android will change their mind on this, although I have seen lot of complaints about this new UI.
Lets see… For now I will just accept and adapt ¯\_(ツ)_/¯
Any new UI needs some time to get used to it, give yourself at least 2 weeks…
Dear all,
A quick follow-up on my issues since I installed /e/OS 1.9s on my Fairphone 3:
I am able to receive text messages but I cannot send any. This is particularly annoying
I can connect to my VPN (Mullvad) when on Wi-Fi, not on cellular network
I cannot share my connection when on cellular network.
So 2 questions from here:
Has any of you experienced similar issues ?
Is there a quick and easy way to rollback to /e/OS 1.8.x ?
Kind regards
No.
Can't confirm on 1.9-s-20230311268558-dev-FP3 with provider Telekom in Germany.
Hey thanks for your answer.
My complete version is the following:
1.9-s-20230310268290-stable-FP3
Should I jump to a dev version if rolling back is not feasible ? Or maybe it is jumping into more problems…
Brand: Fairphone
Name: FP3+
CodeName: FP3
Previous version: 1.8.1
Not rooted
My SIM card is not detected anymore.
I have no mobile internet, cannot send or receive SMS and calls since the update today, which is a rather serious issue.