How do i translate webpages by the e browser?
Is any add on translation?
I have not personally tested this but there is an option in the browser to add languages which you can try. You can reach it from the menu on top right the 3 dots>>Settings>Languages>Add language
Hello good afternoon!
yes, I did it, but it does not translate pages of English source into my language. I would suggest an addon for the browser.
It is possible to add an addon in google chrome where it automatically translates pages.
In which language would you want the translation to be in? The Add Language provides you a large list of languages which you can try out.
About Google Chrome - I am not sure. As /e/ is a 'de-googled' OS not sure how Chrome or core google products behave on it.
I would like you to translate it into Brazilian Portuguese. I already added Portuguese and Spanish in the browser through the languages menu, but it didn't work.
there is a button in / e / browser that doesn't work:
"offer to translate pages in other languages"
It appears, but it is not possible to enable it.
I do not use the google browser, I only use the original browser of / and /.
The example I mentioned is the screen below, we could have an equal.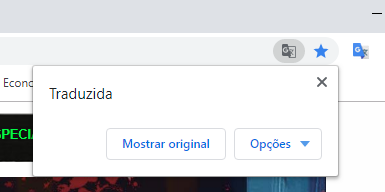 Hi @Silvio.sidney thanks for pointing this out. I will check with the dev team on this and get back to you.
Hi @Silvio.sidney pl can you raise this as a bug here. You can add a reference to this thread. That will help the dev team resolve this language change issue on the browser.
One way is to change the default system language but that will change the language for all the screens not just the browser. Search for language in Settings >> System >> Language & input
Hello,
In today's update, 10/26 the / e / browser does not translate web pages into the chosen language.
There is no point in selecting the language from the settings menu because translation is not performed. Will the web page translation function be included in the / e / browser?