Note: Documentation in this section is Work in progress. Help us update it. Help us make /e/ better !!
| Icon | Calendar Main Screen |
| --- | --- |
| | |
Features
Calendar forked from Etar is an open source material designed calendar made for everyone!
Easily setup appointments
Has a simple, material designed and state of the art open source calendar that anyone can make better.
The application is an enhanced version of AOSP Calendar. Without the help of Free Software for Android team, this app would be just a dream. So thanks to them!
Month view.
Week, day & agenda view.
Uses Android calendar sync. Works with Google Calendar, Exchange, etc.
Material designed.
How to use the Calendar app
Hamburger or Three line menu options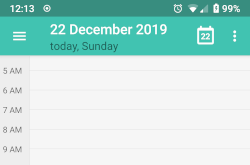 On the top left of the calendar screen you would find three lines or what is also known as the hamburger menu
Tap on the Hamburger menu to open the below Screen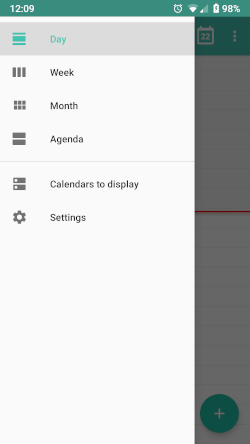 Day

Opens up a Day - wise calendar view

Week

Opens up a week - wise calendar view

Month

Opens up a Month - wise calendar view

Agenda

Shows the Agenda view or task's planned prominently

Calendar to display

If multiple accounts are added to the phone for example /e/ ID, Gmail ID and other accounts those calendars will show up in this view

Settings

Tapping on this option will show a sub Menu. Options in the sub menu are
General Settings
The settings here provide options to change

Theme
Primary Colour as Screen Background
Default view
View details to set level of detail required in Tasks
Hide /Show declined events
Display week days … in case you work 5 days a Week
Set a default duration for an event …default is 1 hour
Set home time zone
Clear Search history
Show / Hide pop-up Notifications - check box default is unchecked
Set up Snooze delay
Set default reminder
Set up quick responses…where an automated text goes out
Your /e/ account ID
Allows you to sync setting for your like Contact Birthdays, any added accounts like Gmail, Tasks in Personal calendar

About Etar
Store your calendar on the phone only:
Use offline calendar to create a local calendar on your phone.
Sync your calendar to a server
A cloud-synched calendar could be a google calendar, but you can also use
any other public Caldav-server or even host your own (which would be the
only way to keep full control over your data and still have ONE calendar
usable from different devices.) To sync such a calendar to some server you
need yet another app, e. g. DAVx5. That's necessary because a Caldav client
isn't included in Etar.
The following link provides a tutorial how to use Nextcloud + DAVx5 + Etar.
About the Project
Build Information
tools/bin/sdkmanager platform-tools
export ANDROID_HOME=/path/to/android-sdk/
git submodule update --init
gradle build

Regain your privacy! Adopt /e/ the unGoogled mobile OS and online services