Note: Documentation in this section is Work in progress. Help us update it. Help us make /e/ better !!
| Icon | Message App Main Screen |
| --- | --- |
| | |
Features
Message is forked from QKSMS which is an open source replacement to the stock messaging app on Android
How to use the Message app
| Message Menu | Message Settings |
| --- | --- |
| | |
Message Menu options
inbox

Displays all the text messages received . You can select / delete messages from this screen

Archived

Your archived text message ( if any) will show up here

Backup and Restore

You can backup and restore SMS messages at present MMS is not developed as yet

Scheduled

You can schedule sending text messages for details on how to do it check below

Blocking

Block sms sender / contacts from this screen

Settings

Check section on Settings below

Help & feedback

Send a mail seeking support to the QKSMS developer from here.

Please note this mail does not go to the /e/ Support team. To contact them send support@e.email

Invite friends

Send a download link to QKSMS app to your friends and contacts through this link
Attaching, Scheduling through the App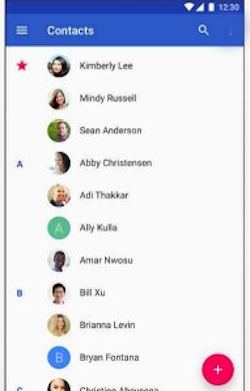 As visible in the screenshot above , the Contact app has a '+' sign in red in the lower right hand corner
Tap the '+' this will open a screen as shown below captioned 'New Contact'
| New Contact | Contact Save To Location |
| --- | --- |
| | |
The user gets the option to choose where to save the newly created contact. The options to save as shown in the screenshot above Features

Your /e/ address book
Your device

Saving to the /e/ address book will save the newly created contact to your /e/ cloud . It will be retrieved automatically when you setup you phone with your /e/ credentials

Saving to phone means the contact will be saved to your phone SIM card.

Tip: Choose as per your requirement as both options have their advantages and disadvantages.For e.g. saving on the /e/ cloud can prevent you loosing your contact list, you can also access the contact list from the ecloud.global web site . In case you save on SIM sync is faster but if you loose your phone or the SIM is damaged - without a backup you could be loosing all your information.
About the Project
Regain your privacy! Adopt /e/ the unGoogled mobile OS and online services