Note: Documentation in this section is Work in progress. Help us update it. Help us make /e/ better !!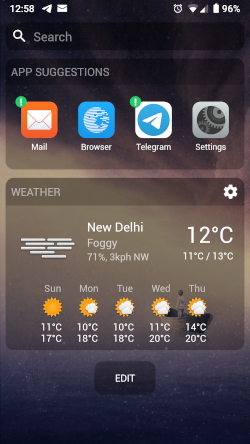 Features
Open source weather app for Android.
Different languages: Basque, Belarusian, Czech, English, French, German, Japanese, Spanish, Polish, Russian
Current weather
7 day forecast
Notifications
Support different measuring units
Ad-free
The weather widget shows up on swiping the Bliss Launcher from left to right
Widget appears below the App Suggestions widget
Unlike other widgets the Weather widget cannot be removed at present from the Bliss Launcher screen
How to use the Weather app
Permission required by the Weather widget

Please note: To function correctly the weather widget requires location access

Warning: Before giving permissions to any app Please ensure you are aware why the permissions is required. It is for you the user to decide if permission should be granted or not.

Permission can be granted from
Settings >> Apps & notifications >> See all apps >>  Weather >> Permission

Alternately location permission to the weather app can also be granted from the below screen accessible by tapping the Setting icon ( gear) to the right of the widget screen which will open the Weather Panel.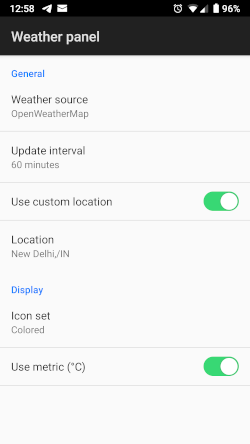 Weather Panel

The Weather Panel as shown above allows you to
Set a Weather Source
Set Update Interval
Use Custom Location for Weather app
Displays Location
Lets you set which weather icons to show
Choose Centigrade or Fahrenheit scale for the weather
About the Project
Project Source Code
Readme Location](https://gitlab.e.foundation/e/apps/Weather/blob/master/README.md)
Regain your privacy! Adopt /e/ the unGoogled mobile OS and online services