Where is the news? That has been known for a long time. So please check dates and stop using phrases like 'Big announcement'
Thank you @AnotherElk for the info. I was so enthousiast and so happy to discover the news from k-9 post on mastodon 3 days ago https://fosstodon.org/@k9mail/111348155388973691 that I didn't realise it was not new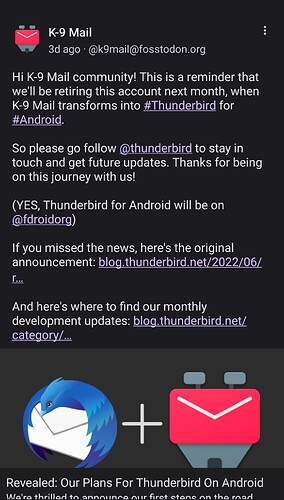 Big announcement beside: patronizing people will do nothing to help community and goodwill.
Just try to turn it into a constructive hint in your mind to proof-read before posting (in which case the "2022/06" in your link should have provoked some thought) or to use the forum search before starting a new topic (in which case the older topic would have come up easily)

.
i don't care that Sebu post this quite old news i wasn't aware of this.
The forum will certainly survive this or that duplicate topic, even more so considering good intentions, but imagine the forum if everybody went about opening topics this way. This approach wouldn't scale well

.
You're right, I agree that I probably posted enthusiastically before checking the original date of the post. Thank you for the way you pointed it out to me.
You can also ask Manoj to merge threads, tagging him in your request.
as for news - /e/OS mail got its repo updated to k9 6.711 a month ago. The feature I most looked forward to in upstream k9 was better autoconfig. I think this will trickle down, even as some modifications are done in /e/s fork.
Why is this nice? if you're sitting on your own domain and want to make onboarding new users effortless, you place a .well-known/autoconfig/mail/config-v1.1.xml with some host variables that Email clients can do discovery on. Makes setup a one-step process.
k9 / thunderbird-android can do this now too.
Using our own domain on /e/

This topic was automatically closed after 15 days. New replies are no longer allowed.