With help here I have now installed Lake on several G7 Plus (Lake) but I am stuck trying on a G7 (XT1962-1) River. I have two with similar problem. I have them both unlocked but I can't get TWRP to run. In the instructions it was the last of the 3 fastboot install/boot combinations that seemed to work but for an error or warning about image not signed or corrupt. I tried 2 versions of TWRP.
jv@Balsamo:~/proj/e/g7river$ fastboot flash boot twrp-3.5.2_10-0-river.img
(bootloader) is-logical:boot_a: not found
Sending 'boot_a' (6 KB) OKAY [ 0.169s]
Writing 'boot_a' (bootloader) Image not signed or corrupt
OKAY [ 0.030s]
Finished. Total time: 0.201s
but… booting to recovery or now even normal start gives me something like this: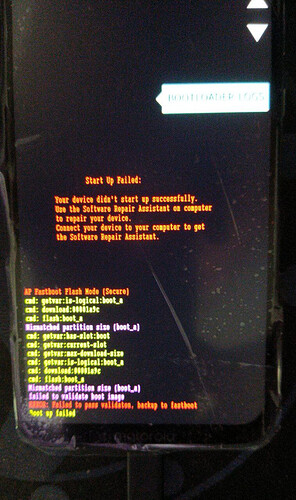 Essentially bricked but at least I can still communicate with fastboot.
Ideas?
Regain your privacy! Adopt /e/ the unGoogled mobile OS and online services