Hello everyone.
In our country we use Mobile ID authentication provided by mobile provider. This works as follows:
We enter our mobile phone number on particular app/website
Owner of the app/website sends SMS to the provided mobile phone number
SIM-Toolkit app on the phone with this particular SIM card catches this SMS and SIM-Toolkit interface is displayed asking for SPIN code
With SPIN code provided mobile phone sends SMS back to the app/website owner and login completes.
Problem is when I provide SPIN code, OK button just do nothing, blue "Enter" button on the keyboard do nothing either: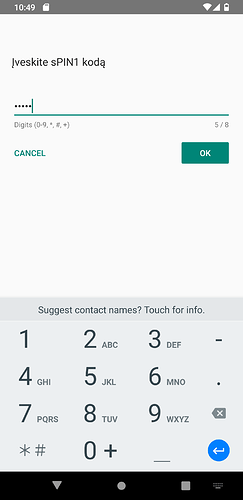 Using e-0.23-q-20220401175185-stable-starlte, earlier tried with e-0.19 too.
SIM-Toolkit can be found separately on the phone and can be opened independently from app/website login process: I can change SPIN code there. But I just can't press OK when trying to authenticate.
The same SIM works great with SIM-Toolkit on the other phone.
Back in the days when I searched for solution, found that this problem may be deep as CyanoGen OS and is particular to Samsung (if not all) models. But didn't found a solution yet.
Tried to report a bug in installation documentation, but this option asks for sign-up and when I tried to register there, I'm getting the error:
1 error prohibited this user from being saved:
Email is not allowed for sign-up. Please use your regular email address. Check with your administrator.