Well according to the /e/ documentation, it's Docker. I believe this is what is used to build supported ROMs and in the CI/CD pipeline.
It's also really easy to use with cloud compute resources, which is helpful if you have an internet connection that takes a couple of days to do complete a repo sync

Again I've left this rather late, but I would love to see support for Sony Xperia XZ1 Compact (lilac) See the specs on GSM Arena. It is compact (4.6" screen), waterproof, runs Oreo out of the box and is upgradable to Android 9.0 (Pie).
It's not officially supported by Lineage, but there are several unofficial Lineage 17 ROMs availabe
Finally the porting of /e/ Source code to Android Q / Lineage OS 17.1 has started. No ETA's as yet on completion of activity. A new code base should be showing up soon … v1- Q

LineageOS 17.1 based on Android 10 is officially available for following Smartphones:
Lineage OS 17.1 - List Of Official Supported Devices

S©urce: LineageOS Downloads

---

Lineage OS 17.1: List Of Official Supported Devices with "N"ightly and "W"eekly OTA updates

Asus Zenfone 6 (ZS630KL) (I01WD)

BQ Aquaris X (bardock)
BQ Aquaris X Pro (bardockpro)

Essential Essential PH-1 (mata)

Fairphone FP2 (FP2)

Google Pixel XL (marlin)
Google Pixel (sailfish)
Google Nexus 6 (shamu)

HTC One (M8) (m8)
HTC One (M8) Dual SIM (m8d)

LeEco Le Max2 (x2)
LeEco Le Pro3 / Le Pro3 Elite (zl1)

Lenovo P2 (kuntao)

LG G2 (AT&T) (d800)
LG G2 (T-Mobile) (d801)
LG G2 (International) (d802)
LG G2 (Canadian) (d803)
LG G3 (AT&T) (d850)
LG G3 (T-Mobile) (d851)
LG G3 (Canada) (d852)
LG G3 (International) (d855) * 9-pie build by @Panta *
L G G3 (Korea) (f400)
LG G3 (Verizon) (vs985)
LG G5 (T-Mobile) (h830)
LG G5 (International) (h850) * 9-pie build by @Chimpthepimp *
LG G5 (US Unlocked) (rs988)
LG V20 (AT&T) (h910)
LG V20 (T-Mobile) (h918)
LG V20 (Global) (h990)
LG V20 (Sprint) (ls997)
LG V20 (Verizon) (vs995)
LG V20 (US Unlocked) (us996)

Motorola Moto One Power (chef)
Motorola Moto G6 Plus (evert)
Motorola Moto Z (griffin)
Motorola Moto G7 Plus (lake)
Motorola Moto Z2 Force (nash)
Motorola Moto X4 (payton)
Motorola Moto G7 (river)
Motorola Moto X 2014 (victara)

Nubia Z17 (nx563j)

OnePlus 6 (enchilada)
OnePlus 6T (fajita)
OnePlus 7 Pro (guacamole)
OnePlus 7 (guacamoleb)
OnePlus 2 (oneplus2)
OnePlus 3 / 3T (oneplus3)

Razer Phone (cheryl)

Samsung Galaxy A3 (2016) (a3xelte)
Samsung Galaxy A5 (2016) (a5xelte)
Samsung Galaxy Note 9 (crownlte)
Samsung Galaxy Tab S5e (Wi-Fi) (gts4lvwifi)
Samsung Galaxy S4 Active (jactivelte)
Samsung Galaxy S4 (SGH-I337) (jflteatt)
Samsung Galaxy S4 (SCH-R970, SPH-L720) (jfltespr)
Samsung Galaxy S4 (SCH-I545) (jfltevzw)
Samsung Galaxy S4 (GT-I9505/G, SGH-I337M, SGH-M919) (jfltexx)
Samsung Galaxy S4 Value Edition (GT-I9515/L) (jfvelte)
Samsung Galaxy S5 LTE (G900AZ/F/M/R4/R7/T/V/W8,S902L) (klte) *coming soon by Kevin Haggerty *
Samsung Galaxy S5 Neo (s5neolte)

---

Lineage OS 17.1: List Of Unofficial Supported Devices for months with "M"onthly OTA updates
Samsung Galaxy S6
Samsung Galaxy S6 Edge
Samsung Galaxy S7 * 9-pie build by @harvey186 *
Samsung Galaxy S7 Edge * 9-pie build by @harvey186 *
Samsung Galaxy S8
Samsung Galaxy S8+

---

Samsung Galaxy S9 (starlte)
Samsung Galaxy S9+ (star2lte)

Sony Xperia XA2 Ultra (discovery)
Sony Xperia 10 (kirin)
Sony Xperia 10 Plus (mermaid)
Sony Xperia XA2 (pioneer)
Sony Xperia XA2 Plus (voyager)

Wileyfox Swift (crackling)

Xiaomi Poco F1 (beryllium)
Xiaomi Mi MIX 2 (chiron)
Xiaomi Mi 8 (dipper)
Xiaomi Mi A2 (jasmine_sprout)
Xiaomi Mi Note 3 (jason)
Xiaomi Redmi Note 7 (lavender)
Xiaomi Redmi 7 (onclite)
Xiaomi Mi MIX 2S (polaris)
Xiaomi Mi 6 (sagit)
Xiaomi Redmi Note 6 Pro (twolip)
Xiaomi Mi 6X (wayne)
Xiaomi Redmi Note 5 Pro (whyred)

Yandex Phone (Amber)

ZUK Z2 Plus (z2_plus)
Your list seems outdated, according to the xda thread beryllium aka (Xiaomi) Poco(phone) F1 is officially supported.
It is also written in the source you provided, there are weekly builds for beryllium.

Please clean your sunglasses and take a close look again. The Xiaomi Poco F1 (beryllium) leads the list of Xiaomi devices. By the way, not an XDA thread is authoritative but the given official LineageOS download source.
It leads the list of Xiaomi devices under Lineage OS 17.1: List Of Unofficial Supported Devices for months with "M"onthly OTA updates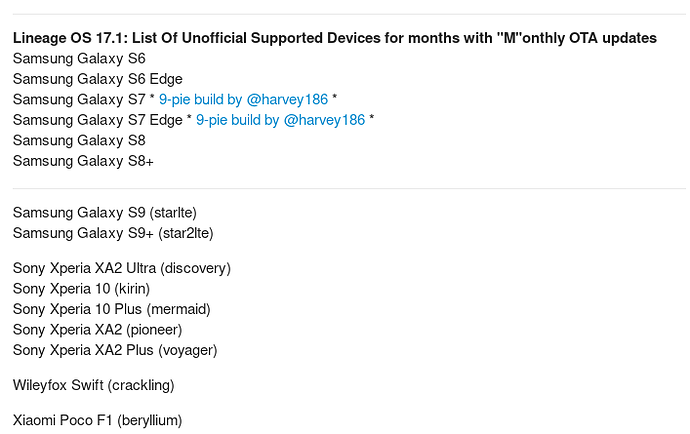 beryllium is officially supported and has nightly (not weekly as I previously said) builds, here is the list of LineageOS 17.1 beryllium nightly builds link.
Do you recognize the two horizontal lines between which the Samsung Galaxy S6 to S8+ are placed? The indication "M "onthly OTA Updates refers to this.
Starting with the Samsung Galaxy S9 and following, the first-mentioned indication "N"ightly and "W"eekly OTA updates applies again.
Now I notice them but you can admit that a bolded line is way more noticeable than a
---
small separator

You see! It helps to clean glasses.
Do I read this correctly, the Nexus 5 is therefore not supported by Lineage anymore ?
Does that mean that it might not get (re)-supported by /e/ os ?
I think there hasn't been updates for that nexus5 for over two months by now.
If the decision would be made not to migrate the Nexus 5 up I would like to ask for one final update that includes the new App store 2.0.
The old is really not very reliable e.g. crashes in the moment for me if I want to see the Firefox details, not install, mind you, just to see.
So the new Apps store would be great if that is possible.
I tested that on an old Nexus5 device and can confirm that the app crashes.
We have a test Samsung S8+ pie dream2lte build. Any volunteers willing to test it ?
Those interested in testing can send in these details to testing@e.email
/e/ email ID (optional)
Tester Name (optional)
/e/ Gitlab username ( required)
Telegram username (required)
[ Need the gitlab username to add your name to the testing project , telegram username in @name format is need to add your name to the telegram /e/ testing channel ]
Please note: Only users who have experience of flashing their devices with stock and /e/OS ROM's need to volunteer for the testing.
Hello. Is there any update, of which devices will be supported and the ones that will not be? I thank you.
Yes there is an update. Was just discussing this with the team. Will be publishing the details on this forum hopefully this week.
My plan is to release the test builds on this forum - say 5 devices at a time and have users with the devices test it. We also have a team of testers but here I guess the number of users will be more who can try and test.
Based on the number of downloads we can decide which devices to drop and which to continue support for, The popular ones - which work perfectly on Pie and also the most downloaded get to stay on the list.
Android Q may be coming in by end of this year hopefully. Work has just started on the code updates. So for the time being we will talk about Pie.