Please help… my elderly OnePlus 3T running /e/ 0.14 was dying, so I spent money I could barely afford on a second hand OnePlus 7T Pro handset and then spent ages successfully loading /e/ hotdog Android 13 (a.k.a. /e/ T) onto it.
I noticed weirdness with the USB Charging options when connected to my Dell XPS13 running a clean install of Linux Mint 21.2. When connected together (with a brand new, decent quality Anker USB-C to USB-C cable), the phone automatically seemed to be trying to charge the laptop. See this posting by some random internet person. I switched this off, but every time I reconnected the cable, it was reset.
This is the screenshot from the above post - obviously not /e/ but Android: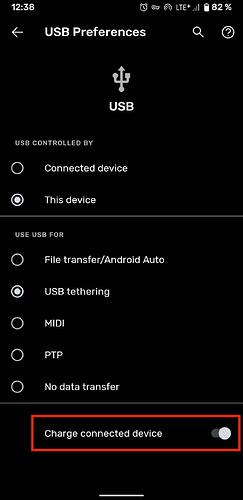 Anyway, I started using the phone as a tethered device until the phone quickly died - I presumed just the battery. Now it will not charge (I've been trying multiple functional, known chargers and cables - except the laptop - over the last few hours) and will not power on, nor will VolumeUp+VolumeDown+Power or VolDown+Power work. No sign of life at all.
I don't want and can't afford an expensive brick. Anyone able to enlighten me or help?
Thanks very much,
Jack
Regain your privacy! Adopt /e/ the unGoogled mobile OS and online services