I have two S9 phones, one with /e/OS installed and a S9 (company phone) with original the stock OS (untouched) on it.
The /e/OS phone has e_starlte-user 10 QQ3A.200805.001 eng.root.20230204.011449 dev-keys,stable-release running.
All the apps that use GPS on the /e/OS phone don't get the correct location or show messages that no gps location is found. Therefore, on both phones I have installed the GPSTest app (see https://play.google.com/store/apps/details?id=com.android.gpstest) from App Lounge and Google Play respectively.
Having those phones next to each other against the window, the /e/OS phone take a lot of time to show only very few satellites, while the other phone with stock rom almost immediately shows many satellites: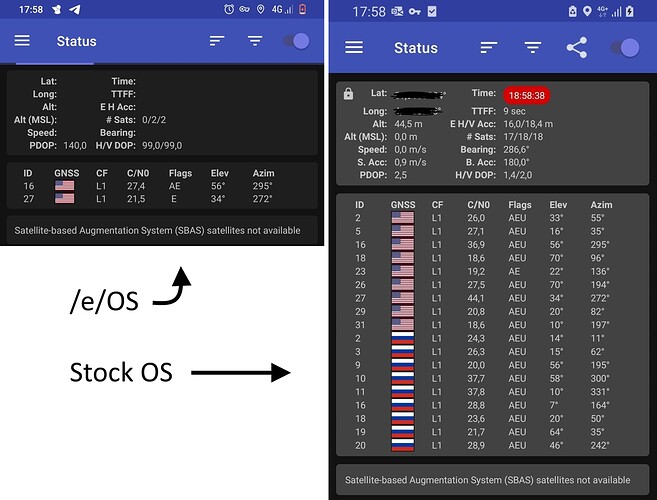 Under "Manage my location" in advanced privacy settings I have it configured as "Use my real location" and in another place my location is set to be exposed.
Why is the /e/OS phone not able to get more satellites and more quickly? More importantly, what can be done to improve it? Any help would be appreciated!