Dear Community,
My FP3 (Android 11, latest /e/OS 1.8.1) has been telling me recently that my internal storage (64GB) is nearly full and now it got completely saturated.
I connected my phone to my Windows laptop and indeed realized that it was completely full: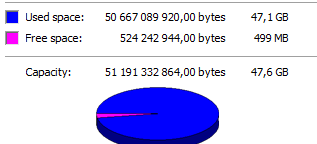 I have cleared my downloads, the largest app cache, pictures, etc. and it barely changed anything.
I then used TreeSize to determine which where the largest folders inside the FP3 internal storage and strangely this is what I got:


What is this com.facebook.katana folder that is located inside the AppLounge and how can I safely empty it? This is completely ridiculous, I have no idea what is even stored in those 30GB…
I have read that this issue has already been reported in Android, maybe @Manoj you might be interested in seeing if this is also messing around with /e/OS in some way:
https://www.reddit.com/r/GalaxyS8/comments/7akksz/anyone_getting_this_issue_comfacebookkatana_is/
Thanks for your support and long live /e/OS as well as Data Privacy,
C.
Regain your privacy! Adopt /e/ the unGoogled mobile OS and online services