Hello all!
I am trying to install /e/ on a Samsung Galaxy S8 (SM-G950F), but I am stuck during the installation process (using easy-installer which is installed on a PC with Windows 10 Pro built 1809)
The first steps of the easy-installer work like a charm, the phone is recognized and marked as "compatible, then the correct files are downloaded and pass the checksum check. The problem occurs on the the INSTALLATION step (Bar 3 out of 8 on top of the screen).
Phone must be restarted in recovery mode. The phone shows the "Downloading" screen, stating that is shall not be turned off:
However, after waiting a couple of minutes, I followed the easy-installer instructions and powered the device off (Per + bixby + vol down). The device turns off.
Then as per the instructions, I pressed per + bixby + vol up, but I land on the following screen: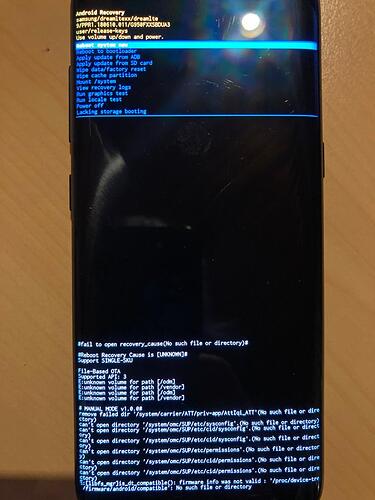 Could you help me on how to proceed from here? (I can reboot the phone from that point, but it then loads the original factory-installed Android.
Note: I am a completely newby at Phone OS's, and I have zero experience on custom ROM's /rooting phones, and such. However, all the prerequisite steps described by easy-installer were meticulously followed.
Thanks very much!
Cheers
Denis