Hello everyone,
I'm sharing my builds for herolte device (Samsung Galaxy S7 - SM-G930F).
I used /e/os docker image for building and Lineage sources (device tree, hardware & kernel) + TheMuppets for proprietary blobs, so everything is "pure stock". See : https://github.com/mishka81/herolte
Actually a e-0.18-q build is available : https://www.androidfilehost.com/?w=files&flid=327235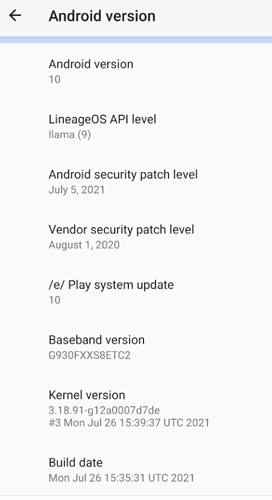 It's working great on my phone, I noticed in particular less battery drain than official Oreo build.
Except some few issues :
problem with the stock phone dialer (already reported by others in the forum) : as a workaround it can be replaced by another dialer like Simple Dialer (not included in the ROM)
echo problem while phone speaker is on (already reported here) : seems there is no workaround for now. I wonder if /e/os will resolve this … or Lineage ?
I noticed too screen lagging whith Live Display / Color Profile = "Adaptative". As a workaround it can be switched to "Standard" and it's ok.
I'll try to provide a new build at every new version of /e/os.