Is everything working fine? Mic, Camera, Screen Rotation, Battery Management, etc.?
Bear in mind it's only been a couple of days, so I haven't really stress tested it. It feels almost exactly the same as /e/ on my Galaxy S7 phone, warts and all as it were.
The microphone works fine, the camera's fine. The screen rotation needs a bit of love I think. When on the unlock screen the device likes to stay in portrait mode, and some of the apps don't seem to be paying attention when you rotate the device, but for me that's not a deal breaker. We've also had it hooked up to a MIDI keyboard, which also worked perfectly.
I haven't really noticed the battery life yet. It's not the newest device so the battery might not be in tip top shape anyway.
Some people find the icons too small, but for me (and my family) it's not been an issue.
For a tablet that is used primarily at home for educating my small people, I'm really pleased with how it's worked out.
Works fine for me. I haven't found anything that doesn't work. But I only use it to look something up on the internet at home, look at pictures and movies. GPS works too.
It will be very nice if there will be an update.

New Galaxy Tab S2 unofficial build available for download . Changes from the previous build include June 2020 Android security patch level. Also using the new build instructions as published here.
@Fairphoner I do like the default Bliss launcher on my phone, but I agree that it's not ideal for tablet. FWIW I personally am using OpenLauncher on this tablet, for the reasons you identified. OpenLauncher is fully customizable for icon size, rows, columns, etc. And its Open Source.
Thank you very much for the update.

@argon3030 you built this ROM with official LineageOS tree, kernel and dependencies from their github right ?
@Anonyme the build is with the sources and build process provided by e.foundation as detailed on this page. I do not make any changes to it, I simply execute the build, specifying gts210vewifi as the target device.
argon3030: Is is possible, that you make a new version in the near future?

July build is available for download now.
For your information, this device has a test build and will be updated.
Wow, nice. Can the test build simply be installed without whipping the storage?
Normally both builds use the same sources (on LineageOS github) so yes you can try, but if you face any issue, wipe data to see if it comes from the dirty flash or from the test build. Backup in case it's needed.
Hi @argon3030, I see your new /e/ OS build e-0.9-p-20200910-UNOFFICIAL-gts210vewifi.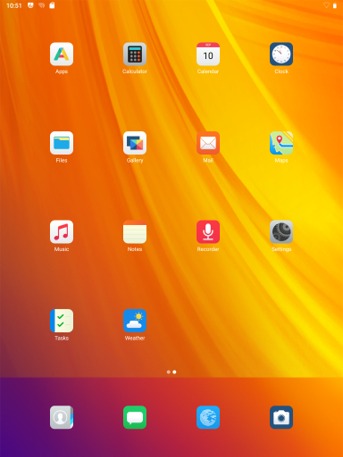 Is there a special reason why you are using the branch e-0.9-p- with Android security patch level July, 5 2020 and not the branches e-0.10-p or e-o.11-p- with Android security patch level August or better September 2020?
Thanks to @argon3030 and @SuzieQ. This tablet is looking good for me with OpenLauncher.
By the way to anyone following the installation instructions. They do not work for me with TWRP 3.4 (the sideload fails, complaining about not being able to make a directory). TWRP 3.3 works fine, though.
Can you show me the link to the sept. or oct. update?