Hi I have Murena Fairphone with /e/OS
I do some work for an organisation that requires 2FA for which I have a Yubikey. Yubikey works fine with my Fairphone for other apps, but this particular login throws this screen: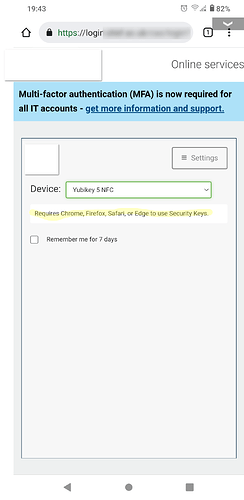 Highlighted part reads "Requires Chrome, Firefox, Safari or Edge to use Security Keys"
I can login on my laptop which has Vivaldi browser, so it will recognise a chrome-based browser. I don't want to have to install chrome just to log in. Is there a way to tell the website it is a chrome-based browser? Any suggestions?
(Or is it something like, "Vivaldi is built on Chrome but /e/OS browser is built on Chromium, which is too different"?)
Regain your privacy! Adopt /e/ the unGoogled mobile OS and online services