The app on /e/ Apps store is two days older despite being the same version (8.0.15).
I downloaded the app from F-Droid and couldn't find wich version of OpenSSL it is using.
But, anyway, why take the chance?
@marcdw where do we have to paste the link in F-droid? I didn't find how to.
Oh, right. Sorry.
Copy the link address to the clipboard.
Open F-Droid, Settings → Repositories. Tap on the + sign to add a new one. The copied link will/should automatically be filled in like in the screenshot. Once added F-Droid will update and then you can search for Firefox and find a number of new browsers (Klar/Focus, nightlies, betas, unbranded versions, etc.).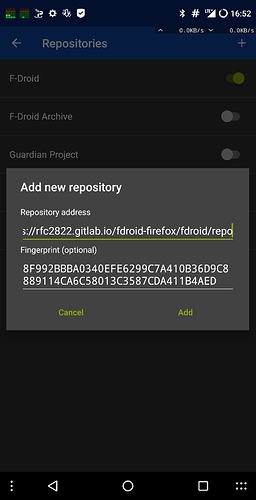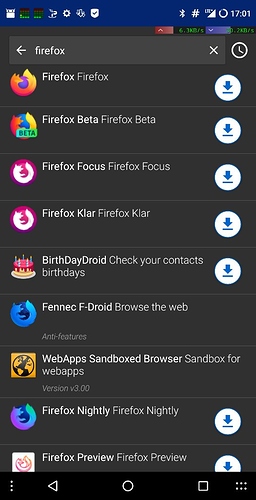 Did this, repository was not signed correctly says a notification. After a retry, now copying link instead of copy as text, it did work correctly, thank you.
thank for the help @marcdw
but it seems F-Droid updated the version of F. Klar.
so I manage using it, just dowloading on F-Droid.
(i had the same issue than @pmjbraet).
but now i know where to put repositories.
ps: i was na apple user before

Just use Fennec F-droid with hardened config instead

F-Droid says that Fennec "follows and transmits your activity" (mozilla tracker inside), so what mobile browser should we use to benefit from mozilla's extensions ? (or else's extensions)
It's funny how browsers are a really daily topic

Ever heard of IceCatMobile ?
It is a GNUzilla browser based on firefox, privacy enhanced, and works with some extensions such as No Script and a few containters extensions too
Any thoughts about this one ?
Yeah I know this one, but its almost one year without update (Version 60.5.1). So I feel like it is very vulnerable now… My go to is Fennec F-droid with hardened user.js (about:config) settings and a couple of extensions. At the moment I also have bromite as a back up browser.
This topic was automatically closed 30 days after the last reply. New replies are no longer allowed.