Additions to the official support
The release of the below 3 tablets has been moved to this week due to some bandwidth issues on the part of developers and maintainer + /e/ gitlab migration to new server instance (now completed)
Tablets being added to the officially supported list

Samsung Galaxy Note 10.1 (p4noterf)
Samsung Galaxy Note 10.1 (p4notewifi)
Samsung Galaxy Note 10.1 (p4notelte)
ROM Maintainer will test the device before release.
Android 11 on /e/
We will release a list of devices which will be upgraded to Android 11. The source code conversion is almost complete.
Users should be able to build unofficial builds with the /e/ R code . Will share the links here
Docker image for Android 11 is ready and available for the community here
v0.18 testing to start
Dark mode implementation … testing the v0.18 updates specific to dark mode. Will release to a larger testing team before release to all users.
Will share details of what fixes will be a part of v0.18
Issues in Teracube 2e v0.17 build
There are issues in the v0.17 build for Teracube 2e which can cause a loss of user data if an upgrade from v0.16 is attempted. The reason behind the issue is encryption code is enabled in v0.17. This will cause the exiting data to be lost. Ensure you have a backup before updating the 2e from v0.16 to 0.17. This issue is specific to v0.17 on the 2e.
/e/Cloud Upgraded to NC 20
eCloud has been upgraded to NC 20. Have a look by logging in using your /e/ ID's
Grouping contacts on eCloud : One of the long standing requests from users is now possible on the eCloud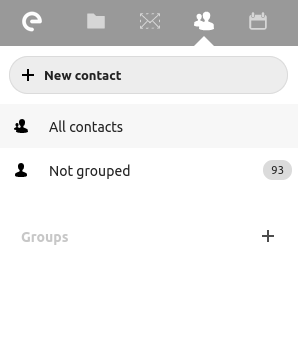 This thread will be updated through the week
Regain your privacy! Adopt /e/ the unGoogled mobile OS and online services