Here's a screenshot of the magisk modules I've installed, and I wish I didn't have to install them but that they were integrated natively.
Firstly, "Logdisablerlite" because my Android ROM for xiaomi10T lite is a "dev" branch and so it risks making a lot of useless log files which can reduce the phone's memory life (limited number of rewrites).
Secondly, mulchSystemWebview, as the MulchSystemWebview implementation is not natively supported (a webview with more privacy options enabled by default).
And finally, universalSafetynetFix and Shamiko (to hide root), as Safetynet doesn't work by default, unlike some CRDROID Roms.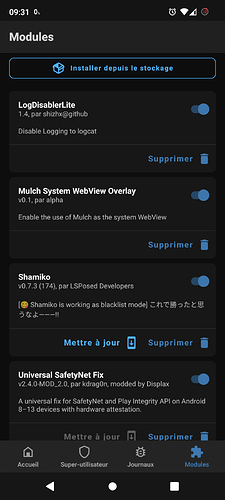 Regain your privacy! Adopt /e/ the unGoogled mobile OS and online services