The appLounge is a weird application.
It clearly works with some system level service that does the actual hard work for installing and downloading stuff. Which seems to work Ok.
The app, however, is flaky in the extreme.
The last months I've been seeing certain apps getting stuck in the "installing" phase for days. Even after a reboot.
So, it was suggested to clear the app-data, that seemed to resolve the issue.
In the last week I've been consistently getting the issue that the anonymous login doesn't work. I checked, the domain loads just fine in a browser on the same phone.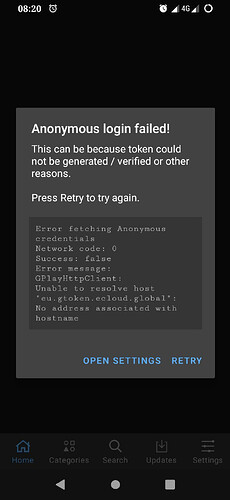 So, again, remove the data-cache and voila, I had 15 apps to upgrade…
Weirdest part is that if I tap on "OPEN SETTINGS", it just gives me another empty screen.
Are the devs aware of these issues? Can we expect this to be fixed soon? Its been a year or so since I got this phone and the App-lounge never really worked. Though the issues we see seem to be very different every release.