Fairphone 4
/e/OS 1.14 stable
Hi,
This issue happens to me right now because I've just rebought a FP4 (my previous one was stolen 5 days ago) but it happened with my previous FP4 when I reinstalled it one month ago (following a SD card crash)
App Lounge (Anonymous login) :
does not always find the application I'm looking for (settings are default, so it is supposed to show everything). For example Keepass2android : I'm not able to find it (I'm absolutely sure it exists : https://play.google.com/store/apps/details?id=keepass2android.keepass2android&hl=fr&gl=US) even if I had installed it on my previous FP4 (with /e/OS). [EDIT: by unloging from anonymous and reloging to anonymous I've been able to find it…]
regularly shows a pop-up saying that it has failed loading list of applications. Please find below a screenshot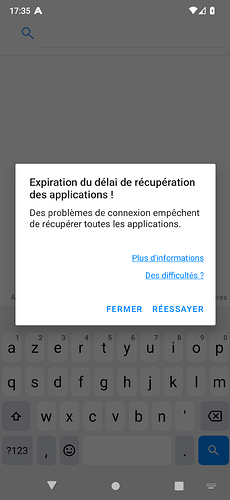 How can I fix this ?
Thank you !
Regain your privacy! Adopt /e/ the unGoogled mobile OS and online services