Well you can see it, and if you can find an older smartphone with /e/ you can compare
I dont have older /e/ smartphones.

Can you make a video with an external camera?
Maybe /e/ is basically slow on the FP3, but nobody knows because there is no comparison to the older FP2. But would the e.foundation then sell devices with it?
Sorry I dont have time to make and post a video but I have reported a bugreport and I will try to get the log, and then we will see what /e/ team says. What I can share is the memory app usage, about 50% used, I don't know if it is a normal use :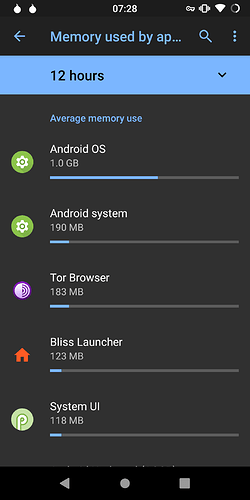 On a linux system is the best memory usage full memory usage.
So after some investigations I have found the solution ! In fact it is the "Animator duration scale" which is slow !
So go in Settings > System > Developper options and click on "Animator duration scale" and select the " .5x " speed (instead of 1x) go in the File app and you will see that it is really faster !
If you do the same with "Window animation scale" and "Transition animation scale" it will also be a little bit much faster, but not so much.
I'm proud to have found the FP3 Beast Mode !

So, can you confirm your phone is now, say, as fast as the FP2?
Indeed that is a serious point for me… For instance, OsmAnd reacts honestly when moving around?
Thank you -your experience is essential!!
Hervé
I just tried out these settings and I honestly can't say I notice any difference. But then my FP3 didn't feel slow in the first place. Do you have a large number of files on your phone (SD card)?
Clearly the display of the new Screens/Windows (in fact the duration of the "animation") is super fast when the animation duration is set at .5x speed, even faster than the standard configuration than the FP2. I recommend to keep Window and Transition animation at 1x speed.
So what I noticed is that the Display of the standard configuration of the FP3 is slower than the one of the FP2. Note that it doesn't answer to your question : faster or slower.
FP3 is clearly more powerful, released 4 years after FP2, 4go RAM, a well balanced CPU, currently I don't have a real feedback on heat and battery drain (my major complain of FP2) when you use a consuming app (games in my case).
I have /e/ on my backup Fairphone 2 now, too, and comparing with the Fairphone 3 I can't confirm the problem.
But it's good to know there's some setting which could help

.
OsmAnd works totally fine on both phones for me.
Yes I have a lot of files on my FP3, not on the my SDcard but it seems the same.
Unfortunately I can't upload my video where you can really see the difference !
Are you using /e/ on your FP3 ? It is possible that on Fairphone OS it may be faster than /e/.
Yes, I tried with /e/ on my FP3.
Like AnotherElk said: maybe not a general problem but good to know there are settings one can try if and when it happens.

As I said in my initial thread, it is slightly slower, but in my case I use the FP2 launcher app and in this case there is clearly a king of "slow motion" animation.
I think what the OP did compare is (1) FP3 with /e/ vs (2) FP2 with Fairphone's own OpenOS (which is the one I have).
My concern is, I wouldn't buy /e/-based FP3s it they appear slower than OpenOS-FP2s…
Fairphone's OpenOS did rock on FP2s…
I have eelo installed on both my FP2 and FP3.
Plugged or unplugged, with a standard 1A or the Fairphone quick charger, still the same speed.
As mentioned in the second thread, this is the UI (User Interface I guess) which is slower/laggy not the phone itself, and it can be solved by changing the Animator duration speed.
I also have the screen lag issue, since I installed /e/ on my FP3.
Is there already a solution or work-around for this problem?
The work-around of @Alt0216 doesn't work for me…
EDIT:
I solved the problem with the help of the official FP forum.
I also experience a non smooth behavior when not connected to charger. For example on webpages then scrolling it is not smooth. When connecting to charger it is…
Hi guyz,
Be aware that as per the last OTA update (26/06/20) I don't have anymore slowness effects ! It's fast and it's good !