??? Don't know what that means

'Slow work in progress', because of 'work in real life'





Hi all.
'Can't mount /data' issue in twrp solved, I will migrate to trebble and e-gsi-pie. To be continued…
After I made my A3 2017 treble capable, @harvery186's /e/ OS Q-GSI including MicroG 0.2.13.203915 (Exposure Notification API) runs on my Samsung Galaxy A320FL "a3y17lte".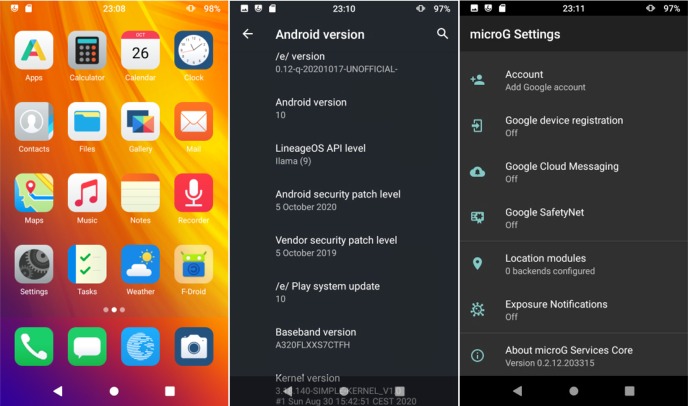 @harvey186's eOS-Q-Full-_arm64_bvS-20201017-.img boots fast and without any obstacles. More …
Hello.
Standby for me, I'm building our home sweet home during holidays.
I had problems with Astrako's tools, my device didn't want to become treble compatible. I have to find the right way, with recovery, repartitionner…
Thanks for sharing Harvey's GSI builds are working on A320FL

Hey all,
I have exactly the same device!
Would you mind sharing the steps you use to install /e/ on the device?
Based on topics about this phone I can read on this forum, I am pretty sure a lot of people will enjoy this!
Hey all,
I was finally able to perform the installation!
First, grab all the files. I uploaded everything here:
Here is the procedure:
Make sure the phone is unlocked and you can install custom recovery
Install TWRP recovery
Wipe data system cache and dalvik
Flash repartioner
Reboot in recovery
Flash TREBLE_arm64_a3y17lte.zip
Flash e-pie-20200416-UNOFFICIAL-treble_arm64_aeN.img (switch to image flash in TWRP)
Flash GSI_PATCH_a3y17lte.zip
Reboot and enjoy!
And you are done!
If you need root, you can:
Download magisk manager from Aurora store
Download magisk from magisk manager
Reboot in recovery
Flash magisk
Reboot and enjoy!
One note, as you may know opencamera on samsung devices is not working correctly.
The only way to have a working camera for me was to install footej.
This is, I think, the only closed-source application that I have installed on my phone as of today.
Hi there, my phone keeps booting in loop after doing this… anyone had the issue?
This variant worked for me without a bootloop. However, I was shown a device other than my SM-A320FL. My installation variant works with eOS-Q-20201225 …
Thank you!
Whay is there two versions of the rom?
eOS-Q-20201225-UNOFFICIAL-treble_arm64_avS.img.xz
eOS-Q-20201225-UNOFFICIAL-treble_arm64_bvS.img.xz
I thought it is only one that needs to be flashed?
I notice that I am not clear of the process with these ROM's. Some instructions mention to install some other repartitioner and treble also… not sure if you need that and what they are for?
Would love some clarity here so that I am sure that I am doing the correct thing.
What I did with these is that I unzipped them and in the TWR I Installed the Image - got 3 choices (Boot, Recovery, System Image and Vendor Image) I chose the "System Image". I did both of them and sometimes I get that there is no operating system installed… and sometimes I get that it is and asks me to install TWR again where I choose No to as per the original instructions.
When booking the phone is still going in a loop… what am I missing here?
The two ROM versions are the most commonly used. However, GSI has more to offer: six ROM variants, depending on the system architecture. See also "Why should I use GSI for A/B devices to some A-only devices?".
The GSI idea was well-intentioned, but in practice various shortcomings become apparent. Bootloops are constant companions during installation. That is why it is important to know what you are doing when you want to install GSI ROMs.
The SM-A320FL is curious. The ROM e-pie-20200416-UNOFFICIAL-treble_arm64_aeN.img is the so-called A-only variant and worked on my treblezied A3 2017. On the other hand, I had to install the A/B variant of the eOS-Q-20201225 because the A-only variant ended in a bootloop. (???!)
Something else: Besides GSI ROM, have you tried the device-specific build ROM e-0.14-q-20201220-UNOFFICIAL-a3y17lte from @itsclarence?
Hi there, this got me further than I have ever gotten. Now instead of it looping it is stuck showing the e with the bouncing ball underneath it…
I have also installed the eOS-Q-20201225-UNOFFICIAL-treble_arm64_bvS.img.xz on the system and I got also the bouncing e from that… but it doesn't continue anywhere…
Is there anything I have missed?
oh my side, I was not able to boot the Q version, so I stayed on the P.
I was coming from Stock Rom (Android 8 IIRC).
If you are not sure, you can rollback your phone to stock rom using ODIN (you can find the rom on samdevices or other website like this).
Then, apply my procedure and it should be ok.
This looks promising. How is development for the A3 2017 progressing?
Can I wait for this or should I get A3 2016, which has /e/?
Hello.
I need to install my A3 2017 (back to stock 8.0.0)
Édith : one more time, I'm completely lost in a lot of threads and not sure I will use the right set of tools. @SuzieQ : how did you made your a3y17lte treble-capable, please ?
I'm downloading eOS-Q-20210124-UNOFFICIAL-treble_arm64_bvS.img.xz, needing more than an hour, here

Thanks a lot.
.
.
.
PS: download links for unofficial /e/a3y17lte (non-GSI) are dead…
PS2: bootloop, 4x

PS3: I tried to install TWRP-3.3.1, then flash Repartitioner, flash OrangeFox, flash LOS17.1 from xda and it worked


Then, back to OrangeFox, flash eOS-Q-20210124, flash GSI-patch and this … device boots on /e/

PS4 : surprised by a 'straight' boot in French + right hour… I tried a clean flash after wiping > recovery loop. So I have to install LOS-17.1 first, config locales and then flash eOS-Q.img and GSI-patch without wipe.
So based on your PS, I imagine you finally boot eOS successfully, right?
Which image did you use?
Hello.
Yes, device had boot on e, the one I downloaded above : eOS-Q-20210124-UNOFFICIAL_treble_etc.
But I 'm not sure it's now fully treble capable. Works with GSI patch, but with little bugs here and there…