I've followed most of your instructions, but I'm stuck on the filename. What would the filename be please?
This is the file you've got to download here (in install guide):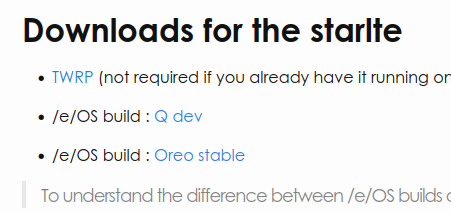 For S9 you can choose between to versions, Q or Oreo. Which did you choose?
I didn't do this part because Easy-Installer did everything for me. So I don't know what the filename is.
If you choose Q dev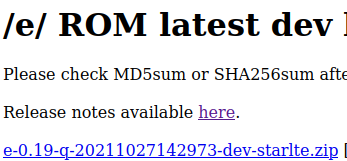 if you choose Oreo: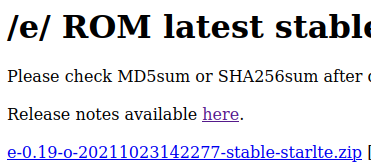 The file had to be saved on your PC. Maybe you got to download it (again)
Sorry caos. I am lost on this bit. Do you know where I can find the file on my PC (Linux Mint)?
You are at step 7) or 8) off this guide
You may search for it in your file manager or just download it again in your downloads-folder
Sorry, but how do I search a file when I don't know what it is or what it is called? And how do I download it again if I need to? I didn't really understand your previous post. Sorry - I am not very computer savvy.
I am not seeing anything in my 'downloads' folder. Does this mean it didn't download in the first place?
If I am now having to choose, which is better, the 'stable' or the other one?
On this site:
https://doc.e.foundation/devices/starlte/install
You've got to klick on either "Q dev" or "Oreo Stable"



Q is a newer version and Oreo is older but more stable.
This is how you may download it.
Or you open your file-manager (nemo if you got Linux mint Cinnamon) and tab strg + f (search) and try the phrase "starlte.zip" or "e-0.19" to find the file that maybe easy-installer has already downloaded.
I don't really know. I installed custom roms at a few different devices but I never had a choice…
I think Q is better but it may contain a few (little) bugs
@piero what version would you recommend?
It will be easier to upgrade from android 10 to 11
Than upgrade from android 8 to 11
The official Automatized OTA Upgrade witch is planned for this particular device is announced for stable chanel only because of this.
I've managed to do a search on my Linux PC (xfce), and I have something installed, but as it's Linux I am not sure which part I would need to open to find out for sure. The numbers/names you have included on this thread do not seem to tally with what's on my PC - but perhaps you can help me to make sure?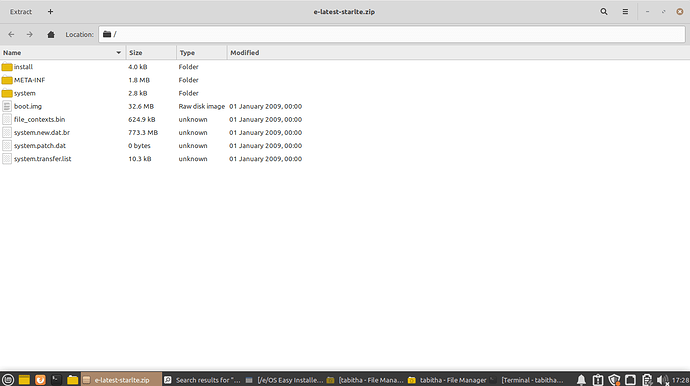 Yes, if you download this into your download folder > if download is completed > right klick on the file " "e-0.19-q-20211027142973-dev-starlte.zip" in your file-manager > copy > change into the terminal > type adb sideload (> paste the filepath here by rightklick> paste)
Before you tap return: start adb sideload in the twrp-menu > then tap return in the terminal
– you must have installed adb at your pc before, have you? (see above "sudo apt-get install adb…)
You do not have to extract/unzip it but take the zip-file. The zip-file has to be installed/ sideloaded, it shall not be unzipped
Is this folder which is download with easy-installer?
I am still trying to follow your instructions, but finding it difficult to know where to start. I have /home/tabitha/snap/easy-installer/common/sources/starlte (tabitha is my name). This is under Devices & Locations. There are no GB's showing with this, and I am not seeing the numbers so far posted above. So I am wondering if nothing was installed after all, but I don't know anything for sure. I am still poking around here, trying to find out. I am very grateful for all your help.