We're working on stabilizing the current /e/ beta so that we can release a V1.0 on early 2019.
It will include an /e/ application repository that will let users install most Android applications, in two clicks. It will show a privacy score for many applications, and unveil the number of trackers and required permissions.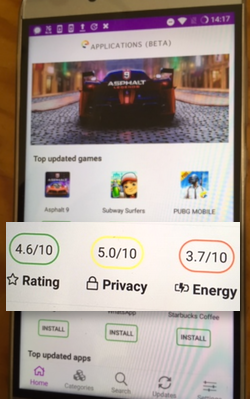 We are also re-valuating default installed applications and some may change in the V1. Most default apps will also have the capability to be uninstalled.
We are also working on the infrastructure, so that we can welcome more users and let people self-host their online services (drive, calendar, mail…). Stay tuned for more information soon!
And what's next?
The project is only one year old ! It's just the begining of the story and we have a long list of features to be implemented in next releases. In particular, after V1 we will be focusing on:
– revamping all the user interfaces to reach full consistency between the /e/ operating system settings, /e/ default applications, and /e/ online services
– bringing more privacy features and security features. We will be introducing a system of profile that will get you into different levels of privacy and security depending on your needs
And many more! This project is awesome and has a great potential to give back their data privacy and freedom to users. And the more support we receive, the more we can do, for all.
/e/ devices
/e/ beta2 is now supported on 53 different devices! We have just added support for Samsung S9 / S9+, LG G3 (International) and HTC 10 (download, flash and test here). Do you want more supported devices? Tell us here about the devices you'd like to see. And we are also looking for maintainers to port to recent devices.
However, we know that most /e/ supporters are waiting for an /e/ device. We are working on having a limited number of devices available preloaded with /e/ at the V1 launch. As many people would like to have the Fairphone loaded with /e/, we're working on a limited set of /e/-FP2 preloaded. We'd also like to offer choice for another device, but it's not chosen yet.
Support /e/!
It's VERY important to contribute if you want /e/ to succeed and shape a more ethical IT world, with an open-source and privacy-compliant mobile ecosystem.
In one word: contribute as a developer, lend some servers on Internet, spread the word about /e/ in Internet forums, social media, email, retweet our posts with #eFoundation hashtag… Act now:
Sincerely,
Gaël