Hi there,
My Sim card is not detected after installing e-0.11-p-2020091473413-dev-klteactivexx on a Samsung S5 Active (SM-G870F).
The card is detected in other phones and I tried other Sim cards in the SM-G870F with no luck.
Recovery and Rom flashed without issues. After first reboot, "No sim card detected". I tried selecting my carrier in the network menu:
"No service: Selected network (Digicel) unavailable"
I read about similar issues here and there but the phone's IMEI is still there, and the baseband as well. The phone works great otherwise.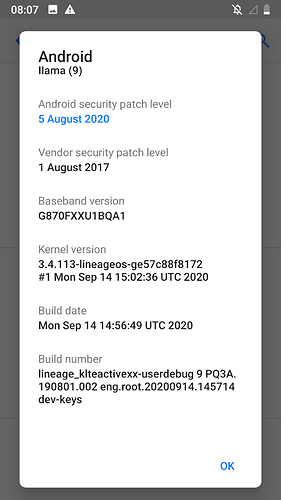 I suspect it might have something to do with the baseband version, should I try and flash another firmware like this one, for instance: Galaxy__S5__Active__/2kp5/FTM/G870FXXU1BQC1/G870FFTM1BPL1/) which I've already downloaded.
Also, the phone was locked to Orange Caraïbes carrier before the installation.
I'd be thankful if you could help me out, I'm at a loss here.
Kevin