BETA! Use at your own risk. See warnings/information/hints from cheeseburger (Oneplus 5) thread:

Comes with weekly ota updates.
Hey Thilo,
i've installed your build yesterday. I did not want to bother with flashing only the 9.0.4 firmware since im used to reinstall my rom every other day, its no problem to me. Since i like to experiment a lot.
Backup my needed data
since there were reports with unlocked bootloaders, i've locked my bootloader
wipe everything and format data
flashed Full Oxygen 9.0.4 Rom
first boot
unlocked bootloader
reflashed most recent TWRP
flashed your Pie Build from 6.7.2019
flashed most recent magisk
boot
profit
After this if gone through the check sheet provided here.
These are my Testresults:
Did the OTA update install the build as expected
Not Applicable till now

If you manually flashed the phone did the process complete successfully
Yes

Is the Bliss Launcher working? Is the Main Screen with Icons visible or is it crashing
Yes

Can you add delete an /e/ account manually + test Gmail or other accounts
Adding works for e and gmail accounts

If you updated your phone OTA were the existing accounts migrated correctly
Not Applicable till now

Are you able to add remove WiFi connections
Yes

If your mobile data working correctly
Yes

Are you able to call and receive phone calls
Yes

Are you able to send receive text messages. We are not checking for MMS only text messages
Yes

Is the camera working as before
Yes

Are the Notes showing up in the app when you add an /e/ account
Yes

Are you able to send receive emails

Is the Search, install view functions of AppStore working correctly – as before in previous build if testing on a OTA update
Yes

Is the weather app working
Yes

Are you able to browse using the Browser
Yes

NFC
Yes

Bluetooth
Yes

After this, today i encrypted my device succesfully again.
If you'd like to test me more, just tell me.
HI @Sakujakira. Thanks for testing the ROM. Wanted to check on this line here
Does this mean you removed the Pie build and then flashed another ROM and encrypted.
Or you encrypted on top of the Pi/e/ build.
Reason why I am asking is I wanted to know how the build behaved with encryption.
Good Morning @Manoj.
No, i've did not installed any other Rom, i've added the device encryption on top of Pi/e/.
Since then there are no big flaws, and most of them i think are but non related to device encryption.
OpenCamera: After Zooming its hard to get focus and take a photo. Other Apps (Zoom FX) dont have this problem. I'll try later Google Camera.
Magisk: Sometimes he totally "forget" all previously granted sudo rights. Reboot helps here.
GPS is inaccurate. Maps.me and other Apps cant get a steady GPS Signal so its hard to navigate. MicroG Self-test switches between successful and unsuccessful geolocation
Today i've installed the 08.07.2019 nightly build as an OTA.
After rebooting i only had a small problem. The device get stuck at "Smartphone is starting" over and over again.
Reboots to recovery, wiping cache and reboots works for me.
After the OTA Android Trust starts to complain about used public keys for signing the build.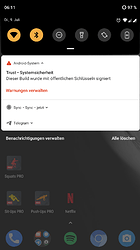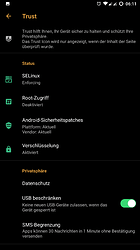 Edit: after the ota I did forget to flash the magisk.zip again, the installation reminded me that in one of the last steps magisk seems to sign the build also. I think this could be the confusion with the signing key.
Thanks @Sakujakira for the details. That is interesting to know. Since some devices have had issues after encryption.
Edited the post above about GPS problems and my assumption about the test keys.