… not anymore.
I like the look of eOS with his e.blissiconpack. I also really like the eROMs from @itsclarence because they work right off the bat. This is also a proof of good code sources.
It's amazing where a single eROM builder investing his free time is able to do what an e T/e/am hasn't been able to do for over half a year: a working e-0.13-q-20201205-UNOFFICIAL-zerofltexx based on Android 10 'Q'. Some ROM builders have already cut their teeth on S6. All respect @itsclarence (!!!)
The classic manual eROM installation went without a hitch. The five year old Galaxy S6 already has fast UFS 2.0 memory. The S6 boots correspondingly fast. The SIM card is recognized immediately, incoming and outgoing calls as well as text messages work just like browsing via Wi-Fi.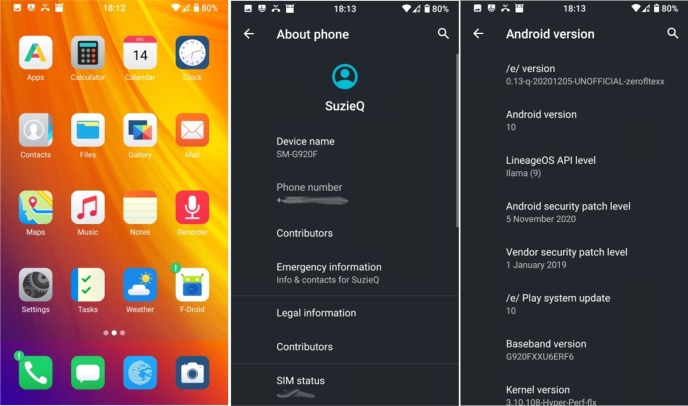 I know of two functioning and constantly maintained LineageOS 17.1 CustomROMs for the 'zerofltexx'. It would be very desirable if the S6 and /e/OS would form a permanent team.
@SuzieQ, you are a fierce, /e/-warrior, who tells it like it is and for that you have my respect: I second your approach and hope it resonates so that a stable, official "/e/ Q" build for Samsung Galaxy S6 (zerofltexx) is released soon.
As @Manoj reported in another thread, the stable build for all devices purchased from the eShop are being released- version is 0.13 for Oreo, Pie and Q builds, not including nougat builds as there is a bug which the team is fixing.
Fingers crossed.
Happy New Year everyone- I hope 2021 is a good one for you!
Does the appearance of this 0.13 dev build mean that we have a working "/e/ Q" build for the Galaxy S6 or am I misinterpreting?
To understand the /e/ build version pl have a look at the document here
Thank you for the link @Manoj. If I'm deciphering it correctly, the "n" means that this is an updated "nougat" build, is that correct?
That is correct. 'n' means nougat.
hello, i just flashed the latest dev rom mentioned above. it works pretty good except there is one annoying bug: when i push the power button to turn off the screen the phone reboots and notification light turns on blue.
I can independently confirm @pandaj0's experience, except in my case the phone is randomly rebooting during use. Also, if anyone is reading this and was hoping (as I was) that the echo issue was resolved in this build, I'm afraid to report that it wasn't.

Looks like I'm off to Plan B: Installing the Unofficial /e/Q build from @itsclarence (above), rooting the phone via Magisk/TWRP using @Bryophytae instructions here and replacing the "mixer_paths_0.xml" file hoping that this solves the echo issue.
If it does, great, I'm done. Not sure how many more times I can hold my breath praying I didn't bork something up while installing custom ROMs…

Plan C is unfortunate and regrettable capitulation: installing LOS.
Another heartfelt thank you to all participants here for generously sharing their time, knowledge and experience. As a total noob, I tip my hat to all of you in thanks and gratitude.
THANK YOU!
I was looking for an android 10 version of e for my S6. I recently bought a used S10e and One UI is decent but I would love to go full /e/. Being able to test out the same version of /e/ on my other device before I commit to it is great.
Update: The ROM is nice! As expected, the accounts and sync work really well. Of course the stock launcher has zero customization besides a wallpaper, and I changed it. More surprisingly, the recents are the old vertical style. I'll try Quickstep for that. Unfortunately it provides very few options for navigation. Other then that, it feels similar to stock Lineage.