Thanks Pete that would be helpful
@mike_from_ireland Do you have any form of encryption or screen lock enabled on your phone? Screen pattern or PIN?
@petefoth I use a pin for the screen lock. I have not knowingly encrypted the phone, so my encryption settings are whatever /e/ does as default.
Thanks
I really must try and find out what that is

When trying to refresh the Software Update tab I am frequently getting
"The update check failed. Please check your internet connection and try later."
on my Fairphone 3+. I am currently running /e/OS 0.15-20210317106351. Any idea how I can fix that? Thanks!
OTA Update from v0.15-dev to v0.16-dev was successful on my FP3. (Android 9)

Successfully installed update on s9 plus.
1 thing i notice is that there is an app missing
Anyone know which one?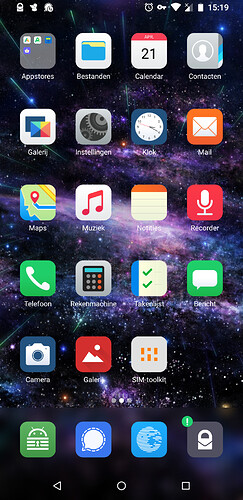 .
Weather app has been removed from v0.16
Any way to remove to widget that now fails to update?
Thanks so much /e/ team!
The update went through smoothly here on Galaxy S8
Well, I skipped e-0.15-q- and installed e-0.16-q-20210415110657 right away via OTA update.
Thank you /e/ Build Team
On Samsung Galaxy S7 Edge:
Upgrade to e-0.16 went well. Had to install manually though, with TWRP in recovery mode, because after trying the presented Install button I had that error 'Failed to install'.
During the flash there was an error logged 3 times in row (I guess 3 attempts) and it said 'Cannot find /data directory' or maybe it was 'Cannot find /data in ext4 format'. Something like that. But I have not seen any issuue using the phone so far.
Note: I have an sdcard that was made internal (it shows as 'adopted'). Maybe the error has to do with it?
Does the upgrade with TWRP leave a logfile somewhere, so that I can report the error more precisely?
Greetings!
First, thanks for the efforts!
It happened something strange. A few days ago I used the Updater from the my Fairphone 3+, when the installation finished and restarted said that a problem ocurred and told me to do a factory reset.
This time I used the Ease Installer, everything ok, but now I'm at 0.15q again and the updater doesn't give me the option to update to 0.16q.
What can I do know? Thanks!
I am guessing that, as you were offered an OTA Update, your FP3+ was on a dev build. So, firstly, you are reporting a fail there! (OR an update on stable was withdrawn!)
Easy Installer installs a stable build, where an untested OTA Update should not be offered.
More info about Different Build Types.
What should you do? This "Development and Testing Updates" thread is only a few days old, maybe you hit a bug? Stay tuned.

Good day, also eagerly waiting for OTA to 0.16q for FP3.
For the record: At this point it would have been worth to try to just go back to the prior state of the OS before the update …
---
You can just wait.
@aibd is right, via the Easy Installer you are on the stable release channel now, the update will come a bit later there than on dev.
A/B device, first time OTA, a little nervous. If nothing goes wrong, I should be able to just click download under system updates and everything is taken care of automatically? Or is using fastboot part of what I need to do every time I OTA update?
More or less. When download completed the process pauses; press 'Install' to continue. When installation complete it pauses again.
Press 'Reboot' to continue. There will then be a pop-up saying "You are about to upgrade to eOS…etc" . It may give the wrong version number but don't worrry, it will install the downloaded version number! Seems to be a glitch.
This topic was automatically closed after 6 days. New replies are no longer allowed.