Hello,
Thank you for keep Samsung Galaxy A3 2016 \Ô/
I have tested previous patch which fix the bug with loop after connected on wifi. (so goood :))
here, i have fresh install new release => work fine.
I waiting too a small release (default app for me if no needed :))
davx5 and openkeychain integrated on system is perfect for me

Thank you for this beautiful work

edit :
Hum, just my flap back don't work : https://www.samsung.com/fr/mobile-accessories/flip-wallet-wa310-galaxy-a3-2016/EF-WA310PBEGWW/
When close it, don't lock screen automatically

New member here. I was so excited to see Shamu (Nexus 6) on the upgrade list that this is the first new forum I have joined in at least 3 years.
Let's get to the heart of the matter:
The build seems to be working fine on my 32GB Nexus 6
I was coming from the /e/ Nougat build, no need to install stock
No partition size errors on install
Had to use TWRP 3.4.0.0 - the earlier versions (3.1.0 & 3.1.0 which is what worked for the Nougat install) I tried gave me device mismatch errors on install
Dirty install did not work, had to do a factory reset (now I will be busy restoring my life since this is my well-loved daily driver)
Also, I used sideload because once I did the factory reset, the data file on the internal storage was gone and sideload was easier than using an OTG stick.
I would be happy to fill out the details of which versions of TWRP did not work and why a dirty install did not either, but they seem only interesting in an intellectual sort of way.
I am assuming that OTA is not working yet so I will keep checking the build list to see if there is an update.
Cheers and keep up the good work,
Fred
It should. I am running a test to check if OTA will work on all these 48 device builds. If the test works then the OTA builds will roll out monthly after the security patches have been added to the source. This usually happens around the mid of the month. That way all test builds from this list should get OTA updates.
OTA updates for test builds are possible now but there is a catch …
As some of you may have noticed the download links in the upgrade list and the New Devices list have been disabled.
What needs to be done
You will have to flash these new device images shared in the links in the upgrade list and the New Devices list
What is different in this build
The updater has been improved. A new version of the build will show up with the name
e-0.10-p-2020xxxx.... the e-0-10 is the important part and has the fix for the updater
After you flash this test build manually subsequent builds will come in over the air (OTA)
Has this been tested
I have tested this on a Redmi 3s land and the screenshots are here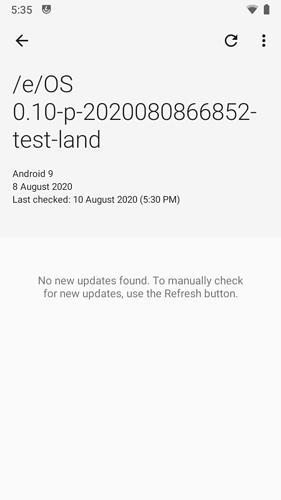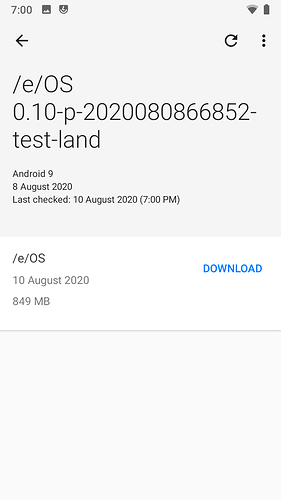 Why are we still testing these builds
We had an issue earlier where some devices could not be updated OTA. Wanted to test all the parts before adding these devices to the officially supported list
I will be updating the download locations for these builds over the next couple of hours.
haha but when we flash it manually, will an update show up in the OTA updater? Because if we have the last build, there will be no update right? So how do we test:)?
edit: just did a dirty flash of the new build on my a3xelte: it's working well, as always, but no updates are showing up. But I think that may be because of above, that I now have the most recent build (10 aug). I used the build was TWRP 3.4.0-0

First step will be to flash the build
Check that it shows 0.10=p-xxx
After a few users have flashed it I can start a new build for all devices.
Once the build is complete and published on the ecloud it will show up on these test builds.
I have still not completed uploading the 0.10 builds for all devices …May take me the whole of today as well. So OTA builds will be made by 14 Aug
Ver 0.10-p uploaded for all test devices.
User will need to flash these manually the first time
The next test builds should appear OTA
Will be running a new test build most probably tomorrow for all devices which should show up on these v0.10-p-xxxx test builds.
Hi @Manoj, Flashed version 0.10-p- test build to Xperia XA2 (pioneer) yesterday and Oneplus 3T just now; same twrp versions as previously. All looking good so far…
For both devices I didn't format data this time and I'm hoping that won't handicap the updater improvements? If it does I'll do clean installs.
Thanks for the info @chrisrg …I am waiting for the merge of the eRecovery code as well into the branch before I create another build for all devices. That way we can test two issues with one build
Was expecting the merge to happen yesterday but due to some reasons it got delayed and pushed forward. Hope to get that done today and start the test builds again for all 49 devices.
Just installed the test build on Xiaomi Redmi 4X, so far everything is running fine


Thanks !
TWRP level is 3.3.1-0.
Just finished and uploaded the test plan


@Manoj : it could be nice to warn users that this test plan can take some time to complete

Good morning @Manoj
Took the OTA update on Xperia XA2 (pioneer) this morning and it seamlessly installed to e-0.10-p-20200814…test etc.
Powered off to check recovery: it's Lineage recovery, no apparent change.
I was curious to see if the other slot would boot up to the previous test install and yes it does. Hooray! Checked the recovery here also, and it's Lineage too as you'd expect.
The XA2 is in a very good state today it would seem, thanks to all of your hard work, for which I am very grateful, thank you.

Thanks for confirming the OTA part worked.
On the eRecovery bit we have an issue and it could not be released for Pie devices as yet. Anyway one step at a time.
The XA2 now can take a step into the official support list.
OTA is present here too on a3xelte, installed well and all functioning normally. It updated OTA from the 10-08 version to the 13-08 version.
I can also confirm that the OTA does not show up on the older pre-10aug builds
Thanks for confirming that…the v0.10 fix was specifically for the updater to allow OTA updates to show up.
How does the Pixel XL fit in here?
I see it's not on this list, but I see it on the first post list.
Does it not have a test build yet?
Curious about why and when that might happen?
Thanks for all the hard work!
Excited to help test…
For your information: Oneplus3T on 0.10-p- has not yet detected the OTA. Could the installation method used to install the latest build (no wipe/format data) be hampering this in any way?
Not sure that could be the reason. All the same worth a try . Clean install the previous build and then check if the OTA shows up.
I'm considering joining this testing with my OnePlus 3, but I have two questions.
Has anyone here tried it on a OnePlus 3 and if so did it work to install and what are the current problems?
When it leaves the beta phase for Pie, will I be able to use the OTA update function or will I need to completely re-install my phone from scratch again?
Thanks!