Not sure but on the Oneplus3T a clean flash did the trick.
Cleared data for app Updater (org.lineageos.updater), rebooted, and voilà !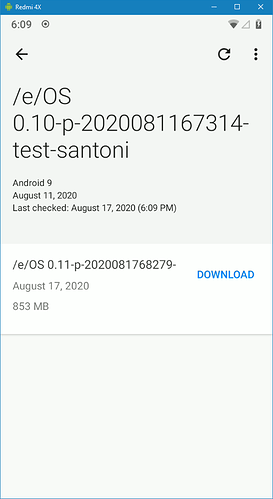 BTW the OTA URL can be found in /system/priv-app/Updater/Updater.apk, resources.arsc/values/strings.xml (key updater_server_url)
Had to reinstall 0.10 testbuild due to mishaps trying to restore data in twrp, and now the phone is offering nougat testbuilds again.
Tried clearing data for the updater app and rebooting as you did @smu44 but it did not work.
You will have to manually flash the ROM the first time when it gets back on the officially supported list. The reason is test builds and official builds are built referring different keys. Subsequent builds will be available OTA.
Lower OS versions showing up in the updater is a bug which needs to be resolved. For now the workaround is to always check the OS version before updating.
Sound advice
Honestly, I'm not joking this time, I actually did book an eye test yesterday.
Hope there are no little n's when I'm asked to read out the letters!

@Manoj
i've successfully intall the test build for gemini with twrp 3.3.1-0 and before this test build i use this [UNOFFICIAL BUILD] Xiaomi Mi 5 (gemini)
ill use this build for a few day and write back if i face problem.
cheers

some minnor problem with default browser:
when i use bitwarden auto fill its not showing the website that i want to login but "foundation.e.browser" instead so i cant find my password automatically in bitwarden
another problem
privacy guard not working, and i got notification because this build using public key and encryption disable (maybe because this build still in testing stage)

Having just installed your test build for Pie on a Galaxy A3 - related all my initial problems in my post two days ago - I notice the new test build 0.10-p-2020081367794-test-a3xelte has just shown up in Update manager, so I proceeded to see if it would update as normally.
Happy to report that even with the 3.4.0-0 version of TWRP all went well.
Congratulations and keep up the good work.

As you may be aware some devices had a partition size issue - where in the full compliment of /e/ ROM apps could not be installed on them.
Now we have a lite version available for testing for Bacon …a Pie build which you can download from the table in the first post in this thread.
What is missing from this /e/ ROM ?
Maps, Weather, PDFViewer, OpenOfficeViewer
Building test ROM's for the devices where we had partition issues earlier. Will share once the builds are done.
Pl test and let us know your feedback.
On the devices which were tested - we will be releasing 2-3 each week from now .
Starting with OnePlus 5 , 5T - cheeseburger and dumpling both will get official Pie builds this week.
So /e/ pie for the Galaxy s4 i9505 jfltexx is for soon…
Maps is a good choice to get free space, IF we still can install it…
This is great news.
That looks like a good choice of apps to remove (because I don't use any of them

)
It would be great if, at some point, there were a way to make unofficial 'lite' builds for devices that are not due to receive official ones (e.g. condor). Even better if it were possible in Docker (e.g. by a flag or parameter in the docker build... command)
Thanks
Updating through the Updater App is also working for dumpling now (from Version of 10.08.2020 to 14.08.2020).
So i guess everything important works flawless, maybe it could be offered as a "production-ready" build.
Well one thing doesnt work, which is wifi calling.
But that also didnt work with lineage so i guess its a device specific issue, and no dealbreaker at all.
The /e/OS pie builds for dumpling and cheeseburger are being added to the officially supported list this week.
Hi Manoj,
i just did a clean install on my tablet YTX703L, but no OTA updates show up unfortunately.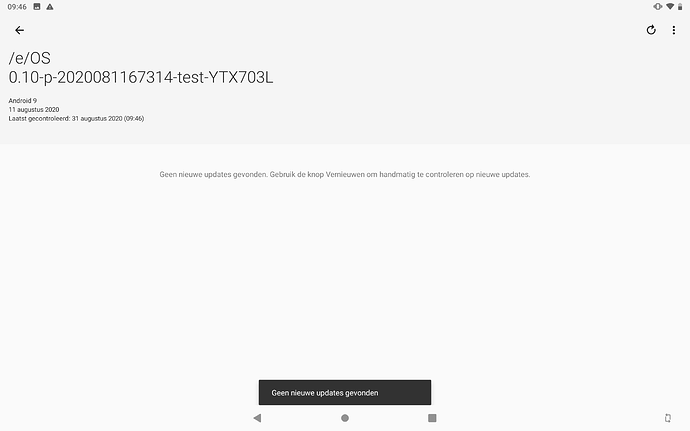 PS I'm a bit confused by the 3 device roadmap topics… Is it possible to move them all into 1 topic?

First of all there are limitations on how long a post can be on Discourse …which is why I broke it into parts.
Added a small explanation as to what each article is about to the title…hope that makes it easier to understand the contents.
If you think the plan is confusing think how confusing managing all the existing , upgrade and new builds can get

Still plan on getting the Q builds our hopefully this week.
haha i'm sure. Any thoughts on the YTX703L not showing OTA updates? I did a clean install this time, so the dirty flash from last time cannot be the issue.
Not sure will have to check with another build…Pl can you send me a log generated after you check for the update?
hee Manoj, a 1 sept build just showed up on my YTX703L. Did you make one today? OTA worked well and the new build is running smoothly. TWRP 3.3.1-0