That's a /e/OS (Pie) build for a SM-580 Samsung tablet. Still under testing but looks good !
Next step Laptops?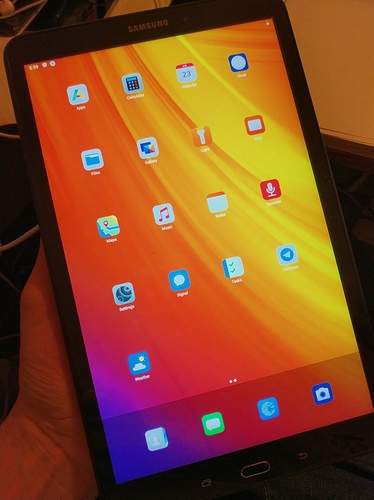 It's better to look at the TV set-top boxes. Most of us have TVs in our homes that work on proprietary-customized Android with G services build-in, and this is a huge threat to privacy.
great step Gael!!! next step laptops indeed!
I am super happy and impressed!!! Nice work!


great, so I can stop my development for Nexus 10
apps icons should be more larger.
Please add older tablets as well, like the Samsung tab 2 10 inch wifi (5110/5113).
Those tablets are really in need of un updated os and are still being used.
No need for Laptop version: Linux is an existing good alternative.
And Samsung tab 2 7 expressowifi too, running Replicant on it now.
I would love it. I was even thinking of switching to Zorin to have my phone and tablet interact with my desktop. So, yes to a /e/ tablet OS and laptop/desktop. If it could be unified and we have access to phones and tablet, what else would you want for the next 6 months?

Yes, yes, yes, yes, was that positive feedback enough?
I have a Samsung tablet ready for /e/

I'm so happy for you to see this project moving so fast.
I can't wait to try it out on my tablet.
Though, I deeply agree with @e.follower and @mpo : TV boxes usually are based on Android and there is no alternative as far as I know for now. Maybe it is easy to say, but I believe it would be clever and wise to look forward those boxes instead of laptops that already have plenty of Linux distros that works well.
Still, congratulations.
My phone has no regrets joining your journey, so am I.
I'm currently in the market for a tablet, would getting the Samsung SM-580 mean I would get official /e/ before other tablets?
Please build for my chinese Mediatek tablet Colorfly G808 mt6592 too.
Hi @GaelDuval,
Nice work! I was just thinking about Android tablet and remembered your post on this topic. I am also interested in getting /e/ on a Galaxy Tab A but I think it's a different version than the one you have, I think it's the 10.5" WiFi version.
My other wish for tablets is for /e/ on the Tesco Hudl and Nokia N1, but unfortunately those run Jelly Bean and Lollipop respectively so I think there's no chance of getting /e/ on those

Big shame for the N1, as that's still great tablet hardware.
Please don't waste time getting /e/ on laptops and desktops. As others said there are already many non-Google (and non-GAFAM) alternatives for these devices. If you want to branch out further than smartphones and tablets, then focus on devices that already run Android in some form - TV, wearables (Wear OS) and cars (Android Auto). It will also be easier to port /e/ for these devices than something which doesn't run Android at all, as you will already have the kernel and drivers you need.
Cheers

Thanks for tablet support !
My elderly mom uses tablets still. I wouldn't mind getting her one of those if you sell them here.
Ofcourse with one of your phones too

hi @GaelDuval , any refurbished tablets with /e/ on it for sale yet…? I'm in the market for one!
hi @Rik, not impossible, but might be hard for us to put our hands on consistent refurb stock on an ongoing basis as we do with the smartphones.
Reasons are that installed base is much smaller than smartphones and replacements do not happen that often. I was reading some stats for the US saying that the lifespan of a consumer tablet is more than 6 years on average! For a smartphone it's around 24 months.
We will have to be creative


hi @alexis , OK:) . in the meantime, is the /e/ pie version that Gael demonstrated in this post available for us to download and flash to a device? I looked in the 'devices' list, but did not see any tablets there. Best, Rik