Hello

I own a Fairphone 3 and a 3+, in whitch the rom /e/ (eelo) is installed.
I have a problem while recieving MMS messages : if the data connection is activated, it works. But if the data is desactivated, i have a notification like this :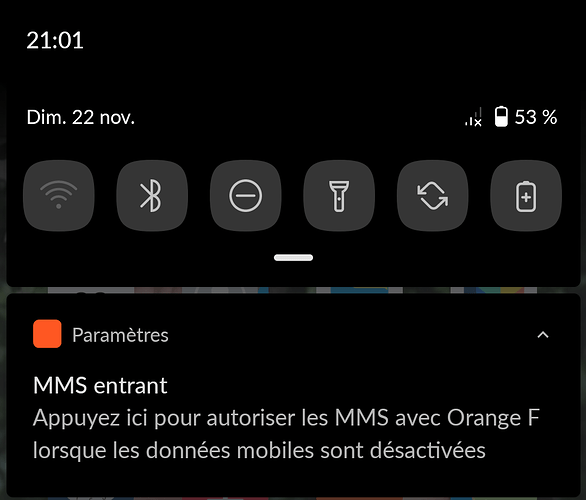 Translation from French :
" Settings : MMS Incoming : Press here to allow the MMS with Orange F (the operator) while the mobile data is desactivated"
If i press the notification, i reach the mobile network settings (data connection, roaming, APN… )
The main problem is here : I have this notification when i recieve a MMS while the data is off, but if i switch on the data just after, i do not recive the MMS, so it is definetly lost. (And i cannot guess who send it and ask him to send it again when my data is activated…)
So for the moment, i have to keep always the data on to be sure that i miss any message

(Sometimes, long text messages come by MMS)
In my old phone (a Honor 5X , also with /e/, it happened like this :
MMS reception without data → Nothing happen
Switching on the data after → The MMS is recieved
Is it possible to have the same running on my FP3 (and 3+) ?
Thanks a lot in advance.




Note : I am in France. The FP3 is on the operator "Free Mobile" and the FP3+ is on the operator "Orange". The two of them have exactly the same issue.
I also created the discussion on the Fairphone forum to maximize the chances to find a solution. I am getting quite desperate ^^