Hi all,
I would like to flash e-foundation ROM to newly purchased Xiaomi Redmi Note 7 Pro (violet), however having difficulties doing it. I am following the official guidelines for the device, but I am stuck at the last step. To be particular, when I sideload the zip file, I am getting an error, which can be seen in the below screenshot: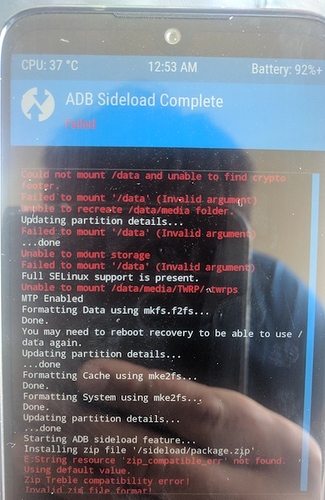 The device details if it helps:
Model: M1901F7S
MIUI version: MIUI Global 11.0.6 | Stable 11.0.6.0(PFHINXM)
Android version: 9 PKQ1.181203.001
So here is the steps I did, first rebooted to fastboot mode, and:
fastboot erase userdata
fastboot flash recovery twrp-3.3.1-0-violet.img
fastboot reboot

Then immediately reboot to recovery mode to activate TWRP. In TWRP:
Wipe -> Format Data
Advanced Wipe -> Cache and System partitions -> Swipe to Wipe
Advanced -> ADB Sideload -> Swipe

Then from command line:
adb sideload e-0.7-p-2020030744075-dev-violet.zip

What I have tried so far:
Pushed the ROM to device, and install directly (without sideloading), same error
Removed compatibility.zip file from zip archive, as suggested here, however got another error (This package requires miui firmware 9.5.14 or newer)
I'd be grateful if more experienced people could suggest possible ways to overcome the issue. Thanks in advance.