As some of you may be aware we are testing out the upgrade of our source code to Pie.
As part of that effort I had built a Pi/e/ ROM for my MiA1 tissot. Have been using it on my main driver for the last 1 week. Not faced any issues or crashes - so far.
[Read the warnings very carefully]
Please note this is a test build.
Please take a backup of your data before your proceed.
Flashing on top of nougat - oreo builds will not work and can result in a bootloop
I had the Official /e/ Oreo build on my MiA1 - directly flashing the Pi/e/ ROM on top of the Oreo build resulted in my phone having no audio ! All the apps were working but there was absolutely no sound. So I had to upgrade the firmware on my phone. The steps I followed are given below
I flashed the latest stock MiA1 ROM tissot_images_V10.0.9.0.PDHMIXM_20190514.0000.00_9.0_3ded3e7b82.tgz - this was the latest Stock build at the time of flashing.
To flash the MiA1 ROM I used the MiFlash version Mi Flash 2018-5-28
Please note MiFlash has a particular way in which it works - follow the steps as given in the download page to flash the Stock Pie ROM.
Once the Pie ROM is flashed check if it is working - especially audio
Next enable developer options on the phone and reboot to fastboot
boot the TWRP image in the fastboot mode . I used twrp-3.3.0-2-tissot.img available for download here
In TWRP wipe screen I had clicked the format data button on the lower side to remove encryption
then wiped system + data + cache
there were a number of red lines in twrp …Failed to mount '/vendor' (invalid argument)… ignored all that !!
Download the Pi/e/ image available here
Flashed the Pi/e/ image from TWRP
Rebooted and the phone was working as expected.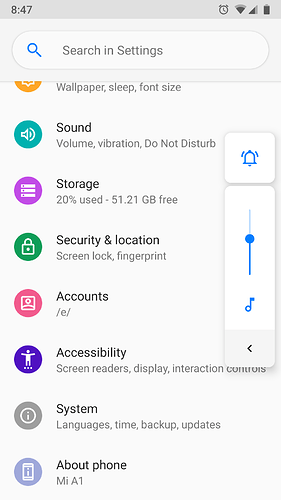 There are a few apps like the /e/ setup is not fully integrated as yet. At first boot it will ask you to choose between Trebuchet and Bliss Launcher. Rest applications work as in Oreo.
If you are Ok with all these warnings then take the Pi /e/ test ROM for a spin
All the best !!!