First of all a Happy New Year to all…
As mentioned previously …starting from this week every week I would be creating a topic which will have a summary of some of the tasks team /e/ will complete that week
This will include
Updates with dates on sprint testing…this will in turn translate into the OTA updates that will come on the dev and stable channels. ( read more about the difference between the dev, test and stable builds)
Names of devices for which the OS will be upgraded
Names of new devices being added to the official list
…The team members are getting back from the Xmas and New Year vacations. Will share more details as this week progresses.
We have a new version of the build coming v0.14 as you can see in the image below.
Will share the details of what changes are coming in this build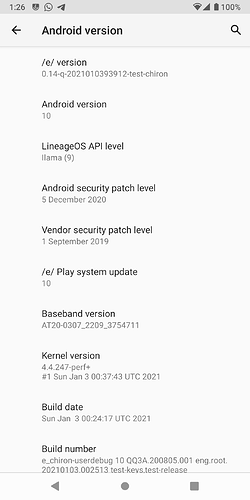 Testing of this build should start in this week… will share the start and tentative end dates as to when the testing team starts and ends testing.
Issues: One of the issues the team needs to resolve is the Web Mail UI instability. While email clients are working users who only use the Web Mail Ui are having issues.
Updates 7 Jan 2021
Testing for v0.14 to start today
v0.14 consists of mostly UI changes. We are standardizing the UI across the default applications that come in as part of an /e/OS ROM.
Details of bug fixes in this testing cycle and links to them will follow in subsequent updates.
Most probably by next week we should be in a position to share list of devices we plan to upgrade or add to the officially supported list
Stay tuned for updates.
Regain your privacy! Adopt /e/ the unGoogled mobile OS and online services