v0.18 testing
Expected to start in a weeks time. One of the main features of the build would be the implementation of Dark Mode. This is how it looks …

Work on some of the apps was still in progress the last time I tested. Once completed we will share with the testing team and once they clear it goes to all users.
These UI changes are not the only fixes that will be coming as part of v0.18. Will share the link of all fixes coming as part of this release
Additions to the supported list
3 Tablets
Samsung Galaxy Note 10.1 (p4noterf)
Samsung Galaxy Note 10.1 (p4notewifi)
Samsung Galaxy Note 10.1 (p4notelte)
1 phone Samsung J5 (j5y17lte)
still with ROM Maintainer and build team as they thrash out some last minute issues.
eCloud upgraded to NC20
Check out the ecloud.global
One of the long standing request from users was to be able to group contacts…that is now possible in the eCloud.
Some of the features are under testing …once released for all users the look of the dashboard would be something like this …as usual have no ETA's to share as to when this goes out to all users

OS OTA Upgrade
No progress on this to report. The team is trying to understand how Samsung does it on their build system. Will update if there is any positive development on this.
Teracube 2e with /e/ pre Installed…
As of yesterday we added the Teracube 2e to our eSolutions Shop. Sales of the 2e are only in the US for now.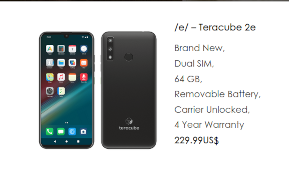 This thread will be updated through the week
Regain your privacy! Adopt /e/ the unGoogled mobile OS and online services